UpTrader awarded "Fastest-growing Social Trading Platform"!
30.01.2022
The annual professional Forexrating Awards announced the results of 2021, according to which UpTrader became the best company in the "Fastest-growing social trading platform" nomination. The service is significant for its exceptional technical features, demonstrating the highly skilled team that deeply understands the market and is able to create the right service.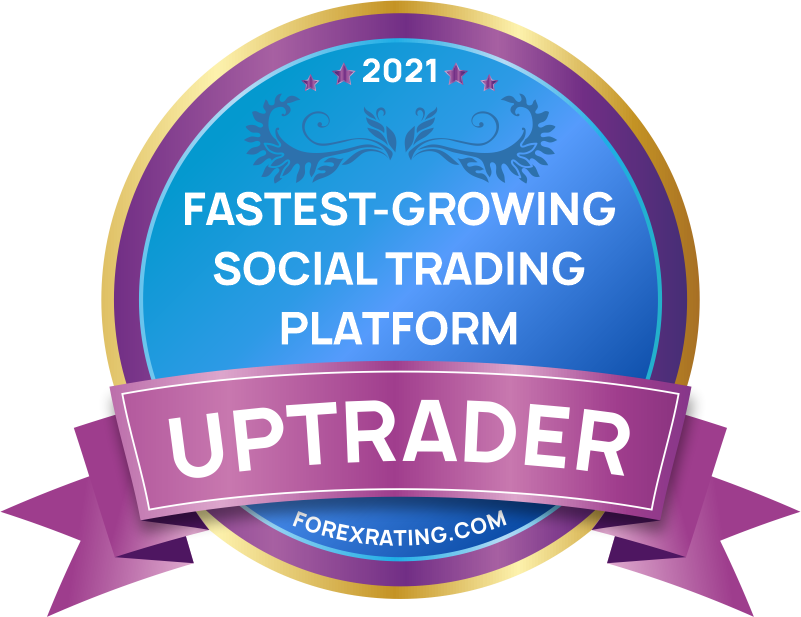 Vasily Alexeev, CEO Uptrader
"The award is a honor for the team. We have worked hard to create a service that can satisfy almost any broker's request, and we are pleased to see recognition from colleagues and clients. In 2022, we plan to pay more attention to improvements in the interface."
Investment service - UpTrader Social Trading Platform for MetaTrader 4 and MetaTrader 5 was launched in 2021. The product was created for different needs of customers, so it can work as MAM, PAMM and Social Trading. The service is significant in its high stability of operation due to the fact that all transactions are copied at the MT core level, in addition to a guarantee against loss of transactions, this provides maximum speed. The service also ensures the accuracy of copying transactions and the distribution of profits between investors to the cent. The service is easily integrated and managed both by staff and by traders and investors.
Read more about UpTrader Social Trading Platform here.
订阅新闻
点击此按钮,即表示您同意我们处理您的个人数据
最新消息
UpTrader has fully completed the Copy Trading Platform service development for MetaTrader 4 and MetaTrader 5
The first basic version of the service for MT4 was launched in April 2021. The full version included a large number of functions which were added as the development and testing progressed. As of 2021, UpTrader Copy Trading Platform service was awarded by the prestigious Forex Rating Awards as the fastest-growing service on the market. Currently, the team has implemented all the functionality of the project architecture.
Now the Copy Trading Platform service from UpTrader includes:
1. CopyTrading for MT4 and MT5.
2. The possibility to choose a copy trading model: MAM, PAMM, or social trading platform.
3. The possibility to purchase the Copy Trading Platform as a plugin in the UpTrader CRM tool. You can also integrate it into your own CRM tool or terminal and customise the interface as you wish. UpTrader provides customers with API and full documentation so you can create your own interfaces.
4. A wide range of tools for investors and traders to flexibly manage risks and profits, such as rollovers, stop-losses, take-profits, the ability to disable strategies at any time, and many more.
5. The option to be installed as a native MetaTrader plugin which ensures precise trade processing.
6. Both A-book/B-book models and their variations. Any existing arrangement is available, including spreads and fees.
7. A competitive price — free integration, $1,000 per month.
You can find detailed information about this service on the UpTrader Copy Trading Platform page.
In addition to the obvious advantages, the service has several features that will allow your company to get more clients and managers to use the service:
1. Stability. No trades are lost thanks to its unique design. Unlike similar platforms, UpTrader Invest is a plugin that works directly at the MT4 core, ensuring the stability of operations and completely eliminating the possibility of missing trades, which is inevitable when connecting to MetaTrader 4 externally — and that is exactly how most similar solutions work.
2. Controlling your UpTrader Invest in MetaTrader Manager
Brokers can manage their UpTrader Invest plugins through the MetaTrader Manager mobile app. It offers full managing capabilities: opening new accounts, deposits, analytics, and much more.
3. Versatility. Investors can monitor their profits via all available methods for MetaTrader (desktop app, mobile app, web terminal) & via UpTrader Fx CRM
Learn more about the service on our UpTrader Invest page:
How does this service help you attract more clients and build audience loyalty?
Many novice brokers ask: Is there a simple service to easily increase sales? Yes, there is. One simple and popular way to activate a novice or hesitant audience is to offer them a copy trading platform with experienced traders.
Many traders who are new to the market are understandably concerned about the risk of losing their deposits and struggle to understand how to trade in general. A procrastinating client equals a lost client. Sometimes copy trading can help them take their first step. A clear rating system, transparent copy trading terms, risk limitation, and instant profit crediting to their account make the service attractive enough for a client to start earning with your company. The only problem to be solved is attracting traders to the service. Good trading conditions, user-friendly interface, and good rewards can help.
If you want to know more, click "Contact us" in the right corner.
06.07.2022
Sign in via Telegram in UpTrader Forex CRM
It is now possible to log in to UpTrader Trader's Room via Telegram messenger. Now each broker can set up this feature for their clients in a few clicks in the Admin interface.
"Telegram is known for its strong position regarding free speech protection. That is why it has become the most popular messenger in the crypto community. UpTrader's clients live in different countries and for many of them free speech means a lot, so they prefer to use Telegram. In the latest months Telegram popularity has been growing among lager groups. In respect to that we have made convenient authorization in the UpTrader Forex CRM." - commented CEO UpTrader Vasily Alexeev.
More questions left? Contact us [email protected]
22.04.2022
The perfect storm on the financial market: an opportunity to open a brokerage in Asia?
The conflict between Russia and Ukraine revealed a global crisis of confidence and strained relations between countries. The US is talking to any opposition only to imply sanctions: "If you do not do as we say, we will impose sanctions against you, if you do as we say, we will lift the sanctions imposed on you earlier".
This rhetoric cannot help but anger world powers like China or Turkey, who see themselves as entitled to pursue their own policies. Markets react sensitively to each statement; country and sector indices, stocks, and currency are turbulent. While some are rising, others are falling. How does it affect the brokerage business?
Market turbulence and crises always attract investors. Some venture in to preserve their capital, others want to earn more money. In the last month, UpTrader saw an increase in the number of requests from companies in Asia which focus on trading gold and currency pairs. Gold is rising as a safe haven for investors during the storm. Others are looking at the energy sector, as Brent rose to $129.47 a barrel as a reaction to sanctions against Russia. Stock markets are falling. The currency market is far from being calm.
In addition, cryptocurrency and digital currencies are booming. Russia decided to make cryptocurrency legal in January 2022. Taiwan, on the other hand, introduced a ban on cryptocurrency payments, as China did a year earlier. But China's digital yuan is being successfully tested. Experts believe that it can successfully compete with the dollar in international payments in commercial exchange. After all, the dollar is losing the vote of confidence from many countries due to overusing sanctions.
All these developments are encouraging investors to open accounts with brokerage companies. An important trend that we noticed over the last couple of years is that small local companies are earning more trust and interest from customers while the giants are losing ground. As we can see, this is due to the fact that local companies are much more client oriented and aiming to meet the needs of their small target audience. They are also very flexible and quick to adjust to changes in trends, which big brokers do with a big delay.
It is common in Asia for former big Forex broker IBs to start their own brokerage companies. They have a reputation and loyal clients. To open a company, all they need is a MetaTrader server (recently, it seems, everyone only buys MT5) and Forex CRM. Separating from their former bosses allows them much more flexibility to serve clients and not depend on the policies of another company. All Asian clients who came to UpTrader in the past few weeks are asking for MT5 and Forex CRM.
Finally, working with Asian clients has always been simple and straightforward for us. This is another feature that makes working with Asia quite promising. And the time to enter the market is perfect, because it looks like the beginning of a new era.
30.03.2022
订阅新闻
点击此按钮,即表示您同意我们处理您的个人数据