UpTrader awarded "Fastest-growing Social Trading Platform"!
30.01.2022
The annual professional Forexrating Awards announced the results of 2021, according to which UpTrader became the best company in the "Fastest-growing social trading platform" nomination. The service is significant for its exceptional technical features, demonstrating the highly skilled team that deeply understands the market and is able to create the right service.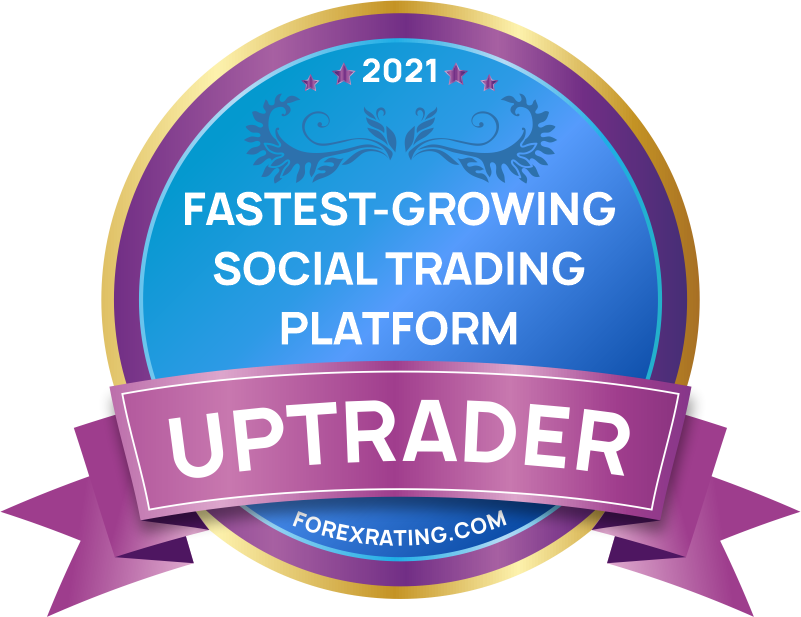 Vasily Alexeev, CEO Uptrader
"The award is a honor for the team. We have worked hard to create a service that can satisfy almost any broker's request, and we are pleased to see recognition from colleagues and clients. In 2022, we plan to pay more attention to improvements in the interface."
Investment service - UpTrader Social Trading Platform for MetaTrader 4 and MetaTrader 5 was launched in 2021. The product was created for different needs of customers, so it can work as MAM, PAMM and Social Trading. The service is significant in its high stability of operation due to the fact that all transactions are copied at the MT core level, in addition to a guarantee against loss of transactions, this provides maximum speed. The service also ensures the accuracy of copying transactions and the distribution of profits between investors to the cent. The service is easily integrated and managed both by staff and by traders and investors.
Read more about UpTrader Social Trading Platform here.
Subscribe to our news
By clicking this button, you agree to us processing your personal data
Recent news
UpTrader at the 6th International Forex Expo 2023
On September 26-27, the World Trade Center (Halls 6, 7, 8) in Dubai will host the 6th International Forex Expo, and the UpTrader team will be there! We eagerly await the opportunity to meet with colleagues and partners, discuss the latest innovations and trends in the industry, and explore new collaboration opportunities.
The exhibition provides a unique platform for leading traders, investors, financial institutions, and brokers from around the world. Don't miss the chance to learn about the key aspects shaping the Forex industry and establish connections with market experts and leaders.
If you plan to attend the exhibition and want to meet with us, please send an email to [email protected], so we can coordinate our meeting.

We look forward to seeing you at the event!
21.09.2023
Click2Call Feature in the Sales Team Interface, set to launch in October 2023
We continue to introduce you to the features of the highly anticipated Sales Team Interface in Forex CRM - Click2Call. This tool will be invaluable for brokers who value the privacy of their clients' data. If there are concerns about misuse of clients' personal information or in any other situations, the Click2Call function allows the client's number to be concealed during a call.
How to activate Click2Call?
- In the administrative interface, go to the "Click2Call" section.
- Choose your telephone provider, for example, Voiso.
- Some providers, such as Voiso, require the use of an API token. Obtain this token from your provider and input it in the corresponding field.
- Next, navigate to "Staff management" where you can select managers you'd like to endow with this feature.
- Assign each manager a unique Extension number and grant them the rights to make calls using Click2Call.
- After entering the extension number, a "Call" column will appear in the client's card.To make a call, simply click on the phone icon, select the desired provider, and click "Submit".

Now, communicating with your clients has become even safer and more efficient!

To get more details about Sales Interface, email us at: [email protected].

Your UpTrader Team
19.09.2023
All Recent Updates in One Digest
Staying updated with the latest developments is crucial for maintaining efficiency and making informed decisions. In an effort to make this easier for you, we've consolidated all the recent updates into this single digest. Here's a breakdown of the latest features, enhancements, and changes we've made:
Streamlining Account Replenishment Requests
Say goodbye to manual monitoring! We've enhanced our payment systems in UpTrader CRM, enabling automatic tagging of unsuccessful replenishment requests as 'failed'. A future update will also include notifications to specific managers.
Learn more
Optimizing Cryptocurrency Payments
With an increased focus on cryptocurrency, we now support decimal values for maximum and minimum cryptocurrency funding amounts. For consistent cryptocurrency transactions, consider UpTrader's efficient, automated crypto gateway.
Discover UpTrader's crypto gateway
Wallet Update: Enhanced 'Pending Funds' Display
Our Wallet now provides better visibility by displaying 'Pending Funds' that are awaiting approval.
Find out more
Improved User Export with Client Wallet Balance
To aid reporting, we've introduced a dedicated Wallet Balance column. Users can now easily monitor and manage their balances right from the User Export report.
Details here
Enhancements in Affiliate Commission Calculation
Our partnership program now boasts added flexibility. Set minimum durations for trading positions to be eligible for affiliate commission plans based on trading volume.
Read the full update

For all questions, please contact us at [email protected].

Your UpTrader Team
13.09.2023
Subscribe to our news
By clicking this button, you agree to us processing your personal data