What to choose? White label MT 4 /5 vs MetaTrader 4/ 5 Full License
14.09.2021
Taylor Bingwa, Customer success manager UpTrader
For entrepreneurs who are only starting their own forex brokerage companies it's not easy to realize which kind of a platform (MetaTrader 4 or MetaTrader 5) to choose and whether to buy a full license or a white label? It seems the differences, pros and cons are clear in general, but when it comes to the final decision, one might start to wonder what to choose. MetaTrader 4 or MetaTrader 5? What is better for business? A Full license or a White Label? Where are the benefits? As it is known the devil in the details. Let's find it out.
Full license or White Label MT4 / MT5?
Let's start with the definition of a White Label.
White Label is a type of a collaboration where one company rebrands services or products of another company and sells them as its own. In the forex world the term White Label is most often used for reselling MetaTrader 4 or MetaTrader 5 trading platforms. Only brokers which have a full MetaTrader license can provide MetaTrader White Label to other companies. They create new account groups, allocate space on their servers, and supply companies with their technical support staff. All these features are necessary for new brokers, but they can cost a lot in case they do it by themselves. That is why new companies prefer White Label rather than a full MetaTrader License. White Label allows you to get great services at a great price.
Pros and cons of buying a MetaTrader 4 / 5 full license
If you start a Forex brokerage firm, you definitely need to decide whether your clients will work with MetaTrader 4 or MetaTrader 5? In case you prefer to work only with MT4, your only choice is to buy White Label MetaTrader 4, because MetaQuotes stopped selling full MT4 licenses in 2020. So now only companies that bought licenses before 2020 can continue working with MT4 server. The rest of the companies can buy only the MT4 White Label. But anyway the MT4 license cost a fortune, so small brokers barely could afford it.
In case you are ready to work with MT5, you can buy the license directly on the MetaQuotes website. They offer a free set up and a $5K monthly fee. In addition you will have to pay $200-300 per month for servers and around $10K for your staff. To cut these costs you can outsource staff and server support to UpTrader, it will cost only $2000 per month.
Comparing White Label MetaTrader 4 to White Label MetaTrader 5. What to choose?
Actually, there is no right answer, both are perfect for trading. The choice depends more on your current business and future plans. But we have to mention that MT 4 developer MetaQuotes stopped selling MT4 a year ago, and now the main MetaQuotes product is the terminal MetaTrader 5. It means that there are no plans to develop the platform MT4, all resources are allocated to MetaTrader 5. By this the developer shows its intentions to advance only MT5.
MetaTrader 4 White Label will be the best choice for their own brokerage firm only for IBs (Introducing Brokers) whose clients are already used to MetaTrader 4. This is a right decision for this kind of Introducing Brokers. If you need WL MT4, White Label Forex Provider UpTrader has this option as well.
Talking about pros and cons of MT4 and MT5, just take a look at the comparison table with details about each one.
Also take a look at metaquotes' table.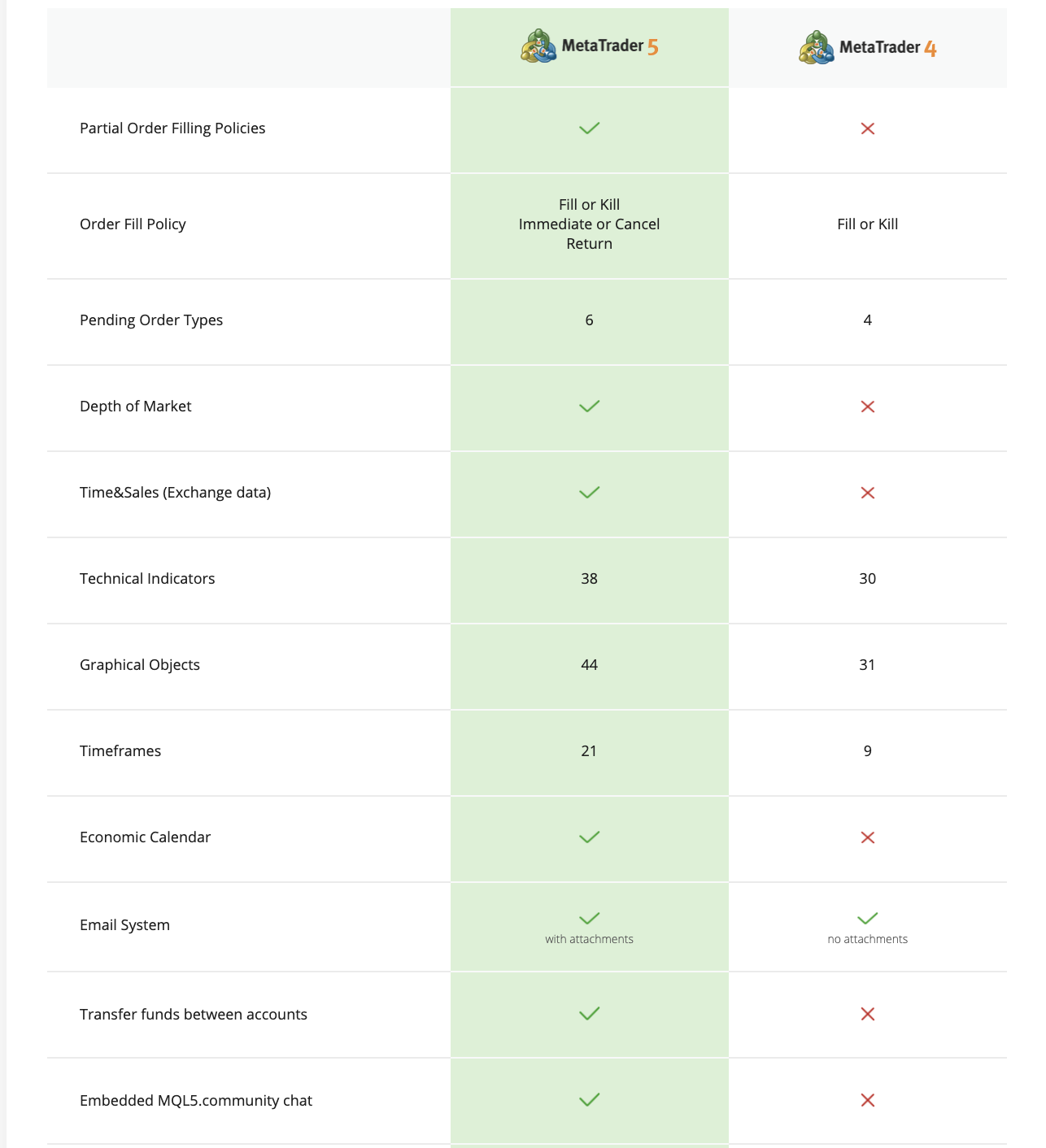 Conclusions:
If it's necessary for you to work with MT4, you need to choose a dependable provider.
If your choice is MT5, you can choose between MT5 Full License, MT5 White Label or the MT5 Full License + server and stuff outsourcing.
If you buy the MT5 Full License and manage the MT platform and servers by yourself, you pay around $15K per month. But your business is absolutely independent and you can do anything.
If you buy the full license and outsource server management and technical support staff, you pay around $7K. In this case you save a lot of money but still have flexibility in trading condition settings.
If you buy White Label from UpTrader, you pay $4000 per month and get a fully ready to use broker. But you don't have wide opportunities for your own settings. Still, you will have a choice of our ready-to-use settings, which are already tailored according to the best practices of the market.
Any questions left? Contact us and we will help you get answers.
Leave a request at uptrader.io and we call you back ASAP.
订阅新闻
点击此按钮,即表示您同意我们处理您的个人数据
最新消息
Sign in via Telegram in UpTrader Forex CRM
It is now possible to log in to UpTrader Trader's Room via Telegram messenger. Now each broker can set up this feature for their clients in a few clicks in the Admin interface.
"Telegram is known for its strong position regarding free speech protection. That is why it has become the most popular messenger in the crypto community. UpTrader's clients live in different countries and for many of them free speech means a lot, so they prefer to use Telegram. In the latest months Telegram popularity has been growing among lager groups. In respect to that we have made convenient authorization in the UpTrader Forex CRM." - commented CEO UpTrader Vasily Alexeev.
More questions left? Contact us [email protected]
22.04.2022
The perfect storm on the financial market: an opportunity to open a brokerage in Asia?
The conflict between Russia and Ukraine revealed a global crisis of confidence and strained relations between countries. The US is talking to any opposition only to imply sanctions: "If you do not do as we say, we will impose sanctions against you, if you do as we say, we will lift the sanctions imposed on you earlier".
This rhetoric cannot help but anger world powers like China or Turkey, who see themselves as entitled to pursue their own policies. Markets react sensitively to each statement; country and sector indices, stocks, and currency are turbulent. While some are rising, others are falling. How does it affect the brokerage business?
Market turbulence and crises always attract investors. Some venture in to preserve their capital, others want to earn more money. In the last month, UpTrader saw an increase in the number of requests from companies in Asia which focus on trading gold and currency pairs. Gold is rising as a safe haven for investors during the storm. Others are looking at the energy sector, as Brent rose to $129.47 a barrel as a reaction to sanctions against Russia. Stock markets are falling. The currency market is far from being calm.
In addition, cryptocurrency and digital currencies are booming. Russia decided to make cryptocurrency legal in January 2022. Taiwan, on the other hand, introduced a ban on cryptocurrency payments, as China did a year earlier. But China's digital yuan is being successfully tested. Experts believe that it can successfully compete with the dollar in international payments in commercial exchange. After all, the dollar is losing the vote of confidence from many countries due to overusing sanctions.
All these developments are encouraging investors to open accounts with brokerage companies. An important trend that we noticed over the last couple of years is that small local companies are earning more trust and interest from customers while the giants are losing ground. As we can see, this is due to the fact that local companies are much more client oriented and aiming to meet the needs of their small target audience. They are also very flexible and quick to adjust to changes in trends, which big brokers do with a big delay.
It is common in Asia for former big Forex broker IBs to start their own brokerage companies. They have a reputation and loyal clients. To open a company, all they need is a MetaTrader server (recently, it seems, everyone only buys MT5) and Forex CRM. Separating from their former bosses allows them much more flexibility to serve clients and not depend on the policies of another company. All Asian clients who came to UpTrader in the past few weeks are asking for MT5 and Forex CRM.
Finally, working with Asian clients has always been simple and straightforward for us. This is another feature that makes working with Asia quite promising. And the time to enter the market is perfect, because it looks like the beginning of a new era.
30.03.2022
Does a broker need liquidity?
Does it make sense to buy external forex or crypto liquidity when an internal liquidity model, or so-called B-book, already has a great track record? Some companies decided a long time ago to work strictly by the B-book, others stick to the A-book, while some monosystem partisans are gradually switching to a hybrid scheme. Which option is the best?
Forex or crypto Liquidity
Liquidity is the ability of a currency pair to be sold quickly at close to market prices. That is, liquidity translates into the saturation of supply and demand and the ability to execute trades quickly at the best prices. Liquidity can be internal and external. B-book means internal liquidity, and this liquidity is provided by the company itself or its clients. If a broker has many clients, their trades are mutually covered, and the broker just has to monitor the total sum. As a rule, each individual client does not affect it too much. If the broker acts as a counterparty, they have to pay on profitable trades themselves. This model is rather vulnerable for many reasons. A-book means external forex liquidity. It has high demand/supply characteristics and better prices, since orders are routed to external providers who have a large pool of traders and therefore a greater order execution capacity.
B-book, or internal forex liquidity: pros and cons
Many brokers mistakenly believe that B-book is the most profitable business model, as it provides maximum profit. The orders are never placed on the market, which means that all the money clients lose stays with the company. It sounds very attractive: someone will get that money anyway, why not keep it for yourself? On the one hand, all of it is true, but this model has one significant drawback. If a client earns money, the broker will have to pay it "out of their pocket". And as we already know, brokers working with B-book offer very high leverage so that the payouts are significantly higher compared to the initial deposit amount. To avoid paying, the broker can dispute the trade and not pay the profit. They can also manipulate the prices to help the trader lose. It is a dirty job that quickly becomes obvious. In these cases, the broker loses its reputation and clients and may as well leave the market for good. That is why in-house crypto or forex liquidity is only suitable for big brokers who have a large order flow, their own wide internal market and enough funds to pay fairly on profitable trades. A small start-up can end up with big financial losses thanks to this model. If they decide to cheat, they can also lose their reputation and clients. Finally, this model has a significant disadvantage in that principal revenue earnings vary from month to month, depending on the market. That is, it may be 30 or 70%... of losses per month.
A-book, or external forex liquidity: pros and cons
A-book is an external liquidity model, i.e., the broker brings all the trades to the market and earns on spread and swaps. They get money from every trade made by the trader. Another advantage is that the broker does not care whether the transaction is profitable or not. They receive the same commission on each transaction. Consequently, the broker is not interested in playing against the trader. The most important thing for a broker in this situation is to increase the trading volume: the more trades are made, the more money they make. It is a classic win-win model with predictable profit and minimal reputational and financial risks. It is the safest choice for a first-time broker: you only pay for the volume, which makes the business manageable and cost-effective. At UpTrader, we also offer a volume-based CRM fee which allows you to start a company with literally a few thousand dollars in your pocket.
Hybrid model: A-book and B-book
Brokers are increasingly opting for a hybrid operations model. After all, from the point of view of financial markets, it is reasonable to keep traders with small deposits on B-book because their profitable deals will not cause the company much financial trouble while unprofitable ones will turn into income. If a client has a lot of funds, however, any of their profitable trades can exceed the broker's financial capacity. In this case, it is better to transfer that trader to A-book. Alternatively, such clients can be partially transferred to A-book in order to reduce risk exposure.
The advantages of the hybrid model are obvious: first, competent account management allows the company to receive profit both from commissions and from losing trades without risking its own funds. The broker fulfills its obligations to clients, thereby earning loyalty and building reputation. It is important to understand, however, that clients generally do not care whether the trades are brought to the market or not. They pay much more attention to trading conditions and profit payments. If a broker does everything correctly, all parties win. The only downside is that you will need competent risk managers. There are some on the market, but they are usually either employed by other companies or quite expensive. Therefore, you have to choose the hybrid model responsibly.
If have any questions related to forex or crypto liquidity, or if you need liquidity, contact UpTrader team please using our registration form and we will give you the best offer.


16.03.2022
订阅新闻
点击此按钮,即表示您同意我们处理您的个人数据