What to choose? White label MT 4 /5 vs MetaTrader 4/ 5 Full License
14.09.2021
Taylor Bingwa, Customer success manager UpTrader
For entrepreneurs who are only starting their own forex brokerage companies it's not easy to realize which kind of a platform (MetaTrader 4 or MetaTrader 5) to choose and whether to buy a full license or a white label? It seems the differences, pros and cons are clear in general, but when it comes to the final decision, one might start to wonder what to choose. MetaTrader 4 or MetaTrader 5? What is better for business? A Full license or a White Label? Where are the benefits? As it is known the devil in the details. Let's find it out.
Full license or White Label MT4 / MT5?
Let's start with the definition of a White Label.
White Label is a type of a collaboration where one company rebrands services or products of another company and sells them as its own. In the forex world the term White Label is most often used for reselling MetaTrader 4 or MetaTrader 5 trading platforms. Only brokers which have a full MetaTrader license can provide MetaTrader White Label to other companies. They create new account groups, allocate space on their servers, and supply companies with their technical support staff. All these features are necessary for new brokers, but they can cost a lot in case they do it by themselves. That is why new companies prefer White Label rather than a full MetaTrader License. White Label allows you to get great services at a great price.
Pros and cons of buying a MetaTrader 4 / 5 full license
If you start a Forex brokerage firm, you definitely need to decide whether your clients will work with MetaTrader 4 or MetaTrader 5? In case you prefer to work only with MT4, your only choice is to buy White Label MetaTrader 4, because MetaQuotes stopped selling full MT4 licenses in 2020. So now only companies that bought licenses before 2020 can continue working with MT4 server. The rest of the companies can buy only the MT4 White Label. But anyway the MT4 license cost a fortune, so small brokers barely could afford it.
In case you are ready to work with MT5, you can buy the license directly on the MetaQuotes website. They offer a free set up and a $5K monthly fee. In addition you will have to pay $200-300 per month for servers and around $10K for your staff. To cut these costs you can outsource staff and server support to UpTrader, it will cost only $2000 per month.
Comparing White Label MetaTrader 4 to White Label MetaTrader 5. What to choose?
Actually, there is no right answer, both are perfect for trading. The choice depends more on your current business and future plans. But we have to mention that MT 4 developer MetaQuotes stopped selling MT4 a year ago, and now the main MetaQuotes product is the terminal MetaTrader 5. It means that there are no plans to develop the platform MT4, all resources are allocated to MetaTrader 5. By this the developer shows its intentions to advance only MT5.
MetaTrader 4 White Label will be the best choice for their own brokerage firm only for IBs (Introducing Brokers) whose clients are already used to MetaTrader 4. This is a right decision for this kind of Introducing Brokers. If you need WL MT4, White Label Forex Provider UpTrader has this option as well.
Talking about pros and cons of MT4 and MT5, just take a look at the comparison table with details about each one.
Also take a look at metaquotes' table.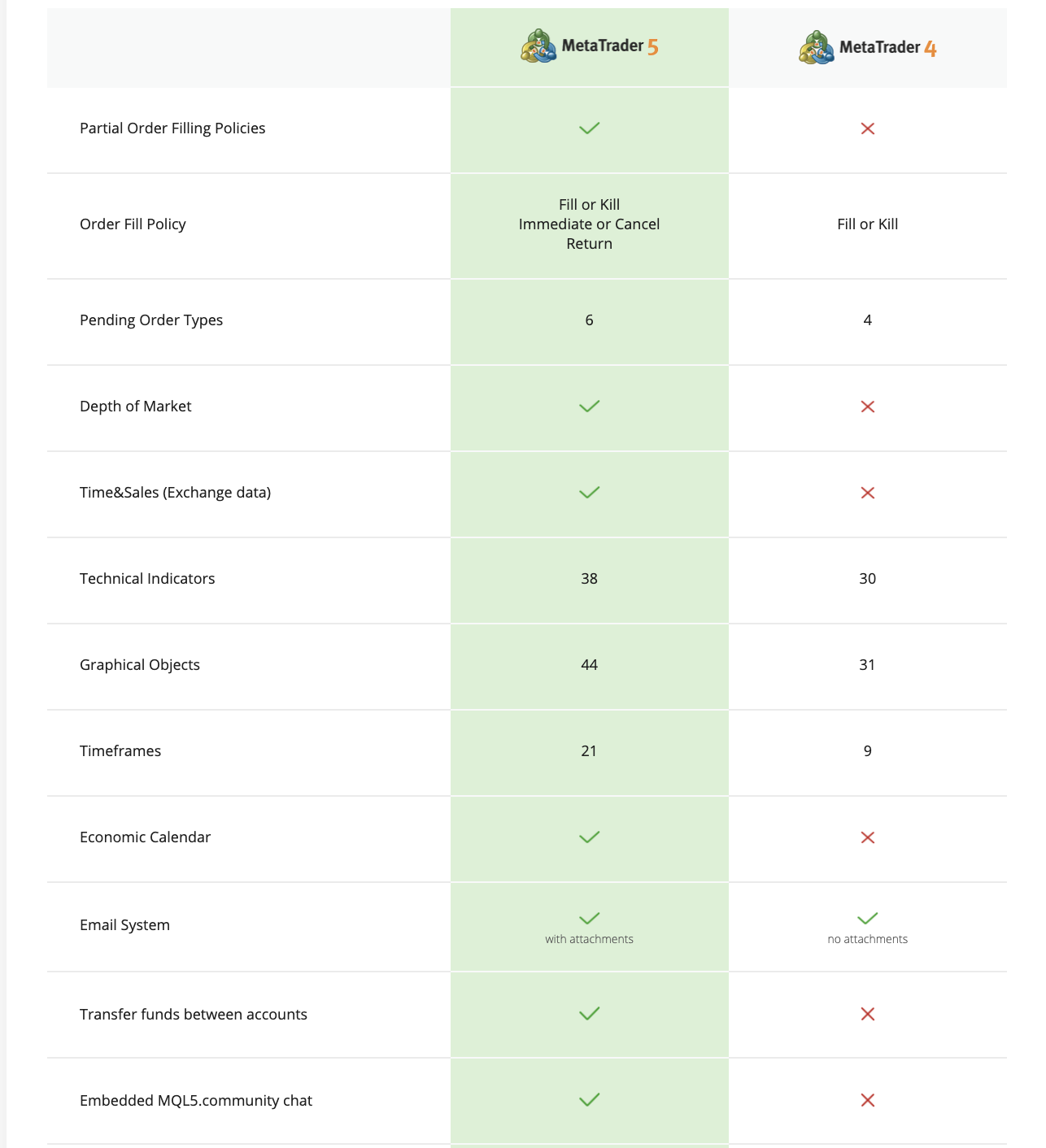 Conclusions:
If it's necessary for you to work with MT4, you need to choose a dependable provider.
If your choice is MT5, you can choose between MT5 Full License, MT5 White Label or the MT5 Full License + server and stuff outsourcing.
If you buy the MT5 Full License and manage the MT platform and servers by yourself, you pay around $15K per month. But your business is absolutely independent and you can do anything.
If you buy the full license and outsource server management and technical support staff, you pay around $7K. In this case you save a lot of money but still have flexibility in trading condition settings.
If you buy White Label from UpTrader, you pay $4000 per month and get a fully ready to use broker. But you don't have wide opportunities for your own settings. Still, you will have a choice of our ready-to-use settings, which are already tailored according to the best practices of the market.
Any questions left? Contact us and we will help you get answers.
Leave a request at uptrader.io and we call you back ASAP.
Subscribe to news
By clicking this button, you agree to our processing of your personal data
Recent news
UpTrader on iFXEXPO, 4-6 October, Cyprus
The main annual international fintech exhibition iFXEXPO will be held on 4-6th October 2021 in Cyprus. Vasily Alexeev, UpTrader CEO is going to be there. He will represent the UpTrader team and be ready to meet with our clients and partners.
UpTrader has released new services this year like a copy trading platform for MetaTrader 4 and MetaTrader 5, and it will be a pleasure to show you this popular service.
We are glad to invite all our clients and partners over there. This is a good occasion and nice place for efficient networking.
To make an appointment with Vasily Alexeev, please write to [email protected]
See you there!
23.09.2021
Social trading software is available for MetaTrader 5 now
This week we have completed testing MT5 UpTrader Invest - a social trading platform for MT5 white label and forex brokers. It's the second investment service created by UpTrader. The first one was launched for the MetaTrader 4 platform in April 2021. So now all brokers that work with MT4 or MT5 White Label or have their own MetaTrader get the opportunity to level up their business with a well made social trading platform which gives you flexible settings and easy management.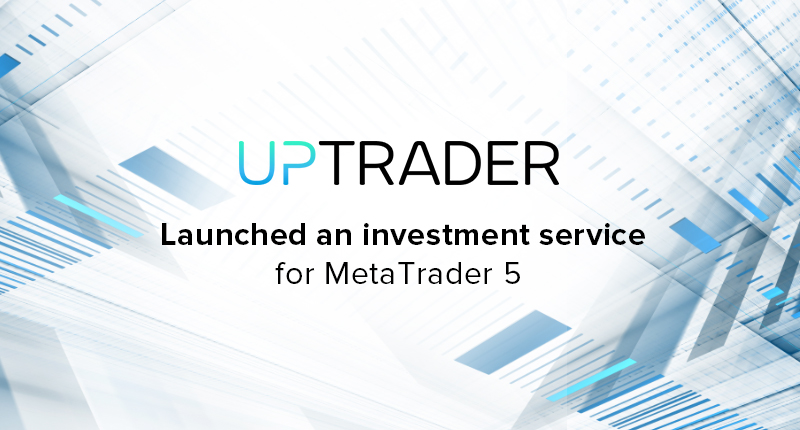 MT5 UpTrader Invest is based on the technologies of PAMM, MAM, and social trading. It means that you can choose how your money managers and clients will earn money with you. The main difference between these modules is how investors and masters will see the profit and funds.
If you choose MAM MT4 or MT5, the master (money manager) trades using investor funds, Investors can see individual trades.
If you choose PAMM, the master trades using investor funds, Investors can't see individual trades.
If you choose Social trading platform, master can't see all the funds,
Investors can see individual trades.
The features of the copy trading platform "MT5 UpTrader Invest"
Stability:
The main thing is that our copy trading platform is highly stable. That means there is no loss of connection during copying of trades. A lot of similar investment services have such problems, and it makes their services poor. That's why we had found a solution before we started to develop this platform. As a result our clients have a quality service for their investors.
The good news is that brokers can keep earning money how they are used to.
It means that anything already used by the broker will be ok: spreads, fees, automated trading advisors. The copy trading platform works with any variations of A-book and B-book. In addition, A-book brokers will be able to hedge their risk more efficiently.
Forex affiliates (Introducing Brokers):
If you have a multi-level partnership program and work with forex affiliates, you can let them use our copy trading software to help attract new customers. The partnership reward will be paid out automatically as usual.

- To get information about all the features, please go to the page.
- If you are interested in a forex social trading platform white label for MetaTrader 4 please go to the link for a big interview with UpTrader CEO Vasily Alexeev about 'MT4 UpTrader Invest"
- Also you can leave a request for a presentation and we will contact you as soon as possible. [email protected]
Terms
PAMM - percentage allocation management module (Similar to MAM, but the history of trades isn't available to investors)
MAM MT4 and MT5 - Multi Account Manager in this solution, the trader operates in the accounts of several clients at once. Investors transfer their funds to the accounts of managers. Each client has an account to track their part of the common trades.

Social trading - automated copying of trades to the accounts of investors. Funds remain in investment accounts, and the trades are also placed there.
Social trading software /platform - investment service for MetaTrader 4 / MetaTrader 5 white label copy trading platforms which allows your customers to invest in investment strategies and get profit by coping orders from successful trading accounts.
23.07.2021
Operating with no license: is it realistic in 2021?
The situation with licensing in Forex has drastically changed over the last five years: above all, new regulations hit the ability of unlicensed companies to accept payments, thus creating a significant obstacle for their operation
Originaly posted on Financefeeds
By Vasily Alexeev, CEO UpTrader.io
In this short review, we have covered the viable operating models of Forex brokers today. Perhaps surprisingly, despite the stricter legislation, there are always ways to work around the rules.
No licensing
Amid the sweeping restrictions imposed on unlicensed brokers, it would seem that this model is obsolete, but such brokers are still there in numbers, and new companies continue to enter the market quite successfully. So, is it possible to work without a license? Easy: it takes one month and $2–3K to register a business in, say, the Grenadines, and only your passport is required.
There's a downside, however—you won't be able to accept payments through the banking system, bank card transfers, and well as advertise your business legally. You'll also likely face problems with popular payment systems, you won't be able to operate officially in jurisdictions where providing Forex services without a license is prohibited, and there are fewer and fewer counties where licensing is not a requirement. However, it's not all bad. China and Thailand have long banned Forex, but hundreds of brokers continue to exist there. They work with local payment systems and operate perfectly fine. These systems work almost with any brokers—the key is to reach an understanding. Other than that, cryptocurrency payments are getting more popular every year.
There's also the issue of trust—it inevitably arises because of the stigma attached to an unregulated broker. As a proof of reliability, brokers can connect to Serenity—it's a smart contract-based blockchain escrow. Serenity guarantees the security of deposits and completely eliminates any potential misappropriation of funds in the accounts of clients. Serenity has already earned the trust of a wide audience of traders. The system is easy to integrate, and with the growing popularity of cryptocurrency, it's important that all payments in Escrow can be processed through the crypto exchanger SerenityPay.io. It's a win-win situation for everyone.
"Offshore lite" licensing
The second option is more complex and more expensive: registering your broker with at least some kind of legality. The most popular licenses are in Seychelles and Labuan (Malaysia). You'd have to pay €50–70K, and the registration would take about nine months. As a result, the broker receives a permit to operate in these countries.
The access to banking and the international transfer system SWIFT allows brokers to attract bigger clients. Such a license also means access to liquidity providers, and hence better trading conditions, which gives a competitive advantage. A Labuan license means access to Malaysian banks.
The main downside—such a license allows operating only as an STP (Straight Through Processing) broker. If a broker plans to work with A-book, STP is a plus. However, if we're talking about a B-book broker or a hybrid model, this would make things difficult. Another downside is the annual expenses on staff and office in these countries, as it's required by the jurisdictions: about $70K a year.
It's also worth noting that these licenses still don't give access to bank card transfers.
Mastercard doesn't accept transfers from brokers without European or American licenses, Visa still does, but more and more reluctantly, and is expected to follow the example of Mastercard. Plus, these licenses don't open the way for official advertising.
The most valuable licenses
The third path, the most valuable and most expensive, is acquiring a European or American license. The price tag starts at €1 mln, the waiting period is at least two years. As a rule, during this time, the company passes all conceivable procedures of business auditing, upon the completion of which a license will or will not be issued for your business. The upsides are obvious—all payment methods: SWIFT, VISA, Mastercard, any payment systems. All kinds of advertising: online, radio, TV. This option is obviously great for reputation and trust, and so forth.
The downsides are also there: aside from the high price, licensing also imposes restrictions on the trading conditions: the leverage is limited to 1:50, and it's prohibited to offer and advertise bonuses. Any violations can result in massive fines. Revoking of the license is also a reality: in 2019, Russia's central bank terminated the licenses of four brokers out of five.
The bottom line is that there always ways to operate despite the stricter regulations.

Read more about how to choose jurisdiction?
07.07.2021
Subscribe to news
By clicking this button, you agree to our processing of your personal data