What to choose? White label MT 4 /5 vs MetaTrader 4/ 5 Full License
14.09.2021
Taylor Bingwa, Customer success manager UpTrader
For entrepreneurs who are only starting their own forex brokerage companies it's not easy to realize which kind of a platform (MetaTrader 4 or MetaTrader 5) to choose and whether to buy a full license or a white label? It seems the differences, pros and cons are clear in general, but when it comes to the final decision, one might start to wonder what to choose. MetaTrader 4 or MetaTrader 5? What is better for business? A Full license or a White Label? Where are the benefits? As it is known the devil in the details. Let's find it out.
Full license or White Label MT4 / MT5?
Let's start with the definition of a White Label.
White Label is a type of a collaboration where one company rebrands services or products of another company and sells them as its own. In the forex world the term White Label is most often used for reselling MetaTrader 4 or MetaTrader 5 trading platforms. Only brokers which have a full MetaTrader license can provide MetaTrader White Label to other companies. They create new account groups, allocate space on their servers, and supply companies with their technical support staff. All these features are necessary for new brokers, but they can cost a lot in case they do it by themselves. That is why new companies prefer White Label rather than a full MetaTrader License. White Label allows you to get great services at a great price.
Pros and cons of buying a MetaTrader 4 / 5 full license
If you start a Forex brokerage firm, you definitely need to decide whether your clients will work with MetaTrader 4 or MetaTrader 5? In case you prefer to work only with MT4, your only choice is to buy White Label MetaTrader 4, because MetaQuotes stopped selling full MT4 licenses in 2020. So now only companies that bought licenses before 2020 can continue working with MT4 server. The rest of the companies can buy only the MT4 White Label. But anyway the MT4 license cost a fortune, so small brokers barely could afford it.
In case you are ready to work with MT5, you can buy the license directly on the MetaQuotes website. They offer a free set up and a $5K monthly fee. In addition you will have to pay $200-300 per month for servers and around $10K for your staff. To cut these costs you can outsource staff and server support to UpTrader, it will cost only $2000 per month.
Comparing White Label MetaTrader 4 to White Label MetaTrader 5. What to choose?
Actually, there is no right answer, both are perfect for trading. The choice depends more on your current business and future plans. But we have to mention that MT 4 developer MetaQuotes stopped selling MT4 a year ago, and now the main MetaQuotes product is the terminal MetaTrader 5. It means that there are no plans to develop the platform MT4, all resources are allocated to MetaTrader 5. By this the developer shows its intentions to advance only MT5.
MetaTrader 4 White Label will be the best choice for their own brokerage firm only for IBs (Introducing Brokers) whose clients are already used to MetaTrader 4. This is a right decision for this kind of Introducing Brokers. If you need WL MT4, White Label Forex Provider UpTrader has this option as well.
Talking about pros and cons of MT4 and MT5, just take a look at the comparison table with details about each one.
Also take a look at metaquotes' table.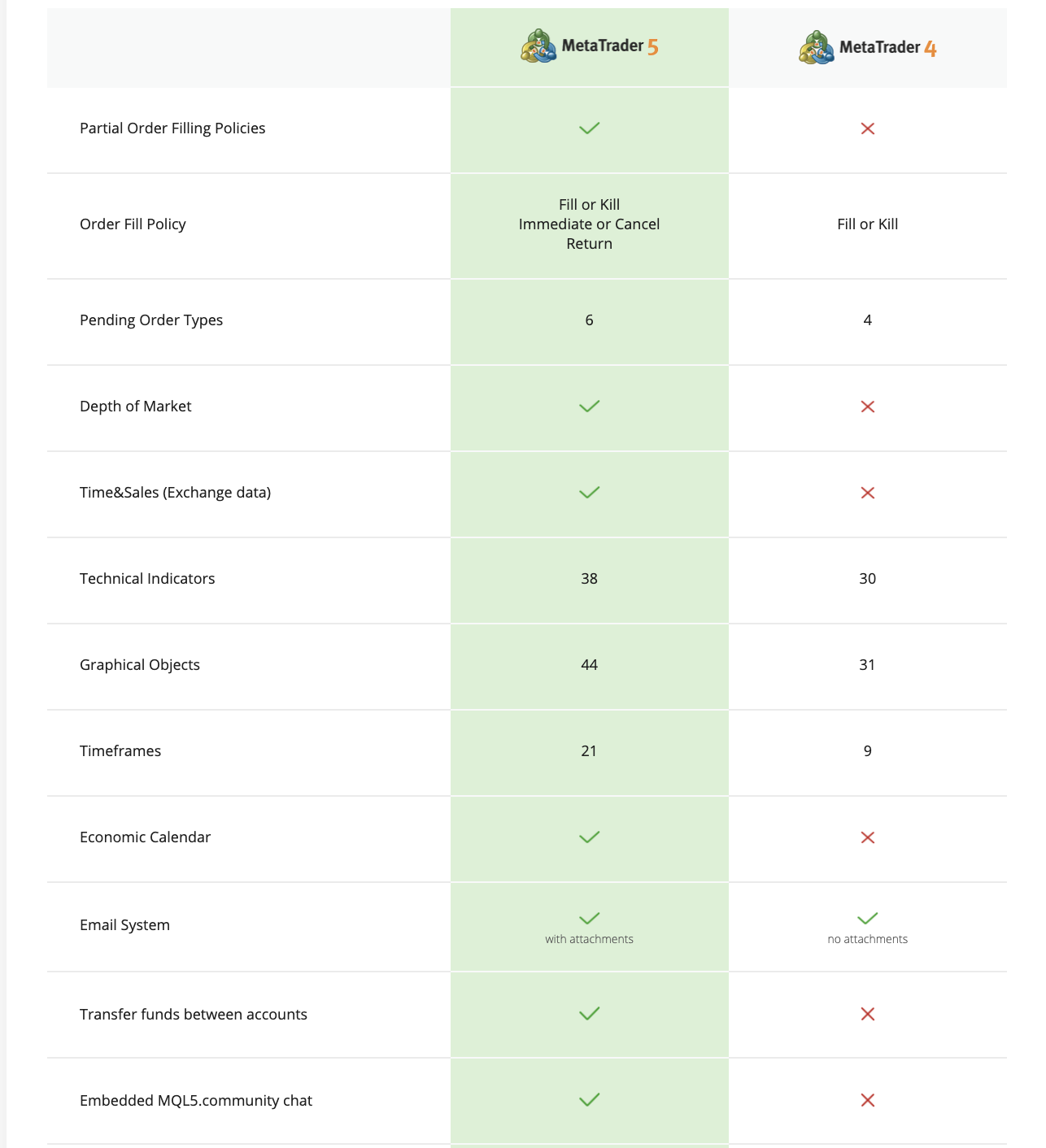 Conclusions:
If it's necessary for you to work with MT4, you need to choose a dependable provider.
If your choice is MT5, you can choose between MT5 Full License, MT5 White Label or the MT5 Full License + server and stuff outsourcing.
If you buy the MT5 Full License and manage the MT platform and servers by yourself, you pay around $15K per month. But your business is absolutely independent and you can do anything.
If you buy the full license and outsource server management and technical support staff, you pay around $7K. In this case you save a lot of money but still have flexibility in trading condition settings.
If you buy White Label from UpTrader, you pay $4000 per month and get a fully ready to use broker. But you don't have wide opportunities for your own settings. Still, you will have a choice of our ready-to-use settings, which are already tailored according to the best practices of the market.
Any questions left? Contact us and we will help you get answers.
Leave a request at uptrader.io and we call you back ASAP.
Subscribe to our news
By clicking this button, you agree to us processing your personal data
Recent news
Happy New Year 2022!
Dear clients, partners, and colleagues!
I wish you Merry Christmas and a Happy New Year. The end of the year is always the time when we look back to assess the results and, based on this foundation, plan the future. I sincerely wish that the business plans for the coming year are implemented fully and on time, and that the financial performance in 2022 is above and beyond expectations. And most importantly, may you and your loved ones be happy and healthy!
Vasily Alexeev, CEO UpTrader

24.12.2021
UpTrader: 2021 results and future directions
2021 is almost over, and it is time to wrap up and make plans for the next year. Reflecting on the results helps us take another look at the work we have done and assess what we have done well and what we need to work on. It helps us evaluate the market situation and the competitiveness of our products and analyse trends in our business.

Trends
MT5 vs MT4
As is often the case in times of crisis, financial markets begin to rise. In those turbulent times, an uncertain future is fuelling the financial services markets. Therefore, brokerage firms keep opening and the demand for brokerage products is growing. It is interesting to note that all our new clients prefer an MT5 terminal, contrary to last year, when only MT4 was requested. With this trend, we can expect that in 5 years time, MT5 will completely take over. This change in preferences primarily has to do with the Metaquotes pricing policy. Currently, the cost of your own MT5 server is comparable to the cost of a White Label MT4, both averaging at $4000-5000. In this situation, brokers often make the obvious choice to buy their own server which leads to licences for MT4 not selling at all.
Cryptocurrencies
Recently, interest in cryptocurrency margin trading has grown. Almost everyone now gives 1:10 leverage and trading is available 24/7. In 2021, UpTrader clients were more likely to ask for cryptocurrency than Forex, although back in 2020, Forex was leading the way.
Social trading
You could say that interest in social trading has been consistent for a year now. It is not a new trend but it is certainly growing. Our new service UpTrader Invest attracts clients and many brokers consider it a core product.
Products
Platform for social trading
In 2021, UpTrader's team launched UpTrader Invest, a new platform for social trading. It is designed for MetaTrader 4 / 5 trading terminals and works in three modes: MAM, PAMM, and social trading. UpTrader Invest is easy to integrate, has a user-friendly interface and the highest copying stability thus solving the issue of losing trades. The service also has several reward calculation modes available. The demand for the platform was high even before it was released, and after the release, the popularity has grown many times over. It is especially true for the MT5 version, since our client reviews are more favourable than those of our competitors. The platform was also positively received by the professional community.
CRM
2021 is the year of CRM improvements. We are constantly improving the functionality and introducing new features to account for the constant feedback we get from our clients. This year, we have greatly expanded the flexibility of the withdrawal control and approval system which allows brokers to process requests faster and quickly detect fraudulent activity. We have also added an analytics feed to the CRM for all our clients.
Customer service
The quicker we solve client problems, the better business our clients are doing, the stronger our relationship is. That's why we strive to provide the best possible service and implement a personalised approach. Each client is assigned a personal manager who is always ready to solve their problem as quickly as possible.
Plans
In 2022, we are planning to improve the design in UpTrader Invest, the appearance of charts in particular. The CRM will be enriched with a long-awaited module for the sales department consisting of many new features.
24.12.2021
Forex CRM Lifehack: Increase your profit with tools you have not used yet
Launch market analytics feed in your Forex CRM
Which extra services do you offer your clients? If you think that a trading terminal, fast fund withdrawal, and copy trading services are enough to keep your clients loyal and satisfied, then you may not know your clients very well or have never tried to offer them something else.
One of the UpTrader brokers broadcasts a daily stock market analytics feed and technical analysis to its clients right in their personal account. Its CEO kindly allowed us to analyse their data for 2021. We considered two client groups: those who read analytics and those who do not. The results speak for themselves.
Numbers
In 2021, customers who read analytics deposited on average 15% more per customer compared to those who did not use this tool. The median bill was 25% higher. At the same time, their trading volume increased by 230%!
Do you want the same results? Easy-peasy!
Daily up-to-date market analysis available in the trader's room might increase the trading volumes of your company, resulting in more potential profit. This tool is already integrated into the UpTrader Forex CRM, however, only a few of our clients use it for additional sales.
Every day, market experts collect information, prepare materials, and publish technical and fundamental market analysis used by thousands of traders around the world.
This tool is already available to you in UpTrader Forex CRM. To begin broadcasting the feed, contact our support team, and you will gain access to an excellent tool for increasing sales and loyalty of your customers starting tomorrow.
16.11.2021
Subscribe to our news
By clicking this button, you agree to us processing your personal data