The whole industry already went online
03.07.2020
UpTrader participated in the conference and expo Virtual Vision Finance. Conducted completely online, the event's format was perhaps unconventional. Or maybe it's to become the convention? What happened to business processes of global companies who provide financial services to individuals and b2b fintech firms because of the COVID-19 pandemic?
UpTrader CEO Vasily Alexeev:
"I won't concentrate on the obvious, but let's summarize the main points: more new clients coming in, increased trading volume. People are staying at home, they have nothing to do (in a broad sense), some are looking for new sources of income, some want thrilling experiences. Moving further. Visiting banks and other financial organizations is limited. As lockdowns are lifted, new habits can seriously impact the pre-COVID workflows. Here we have increased volume of payments in alternative finance, firstly it's cryptocurrency, KYC services also gain in significance. We believe that all this calls for changes in regulation. The pandemic has directly fostered the growth of experience economy. Its primary features are engagement, service, entertainment.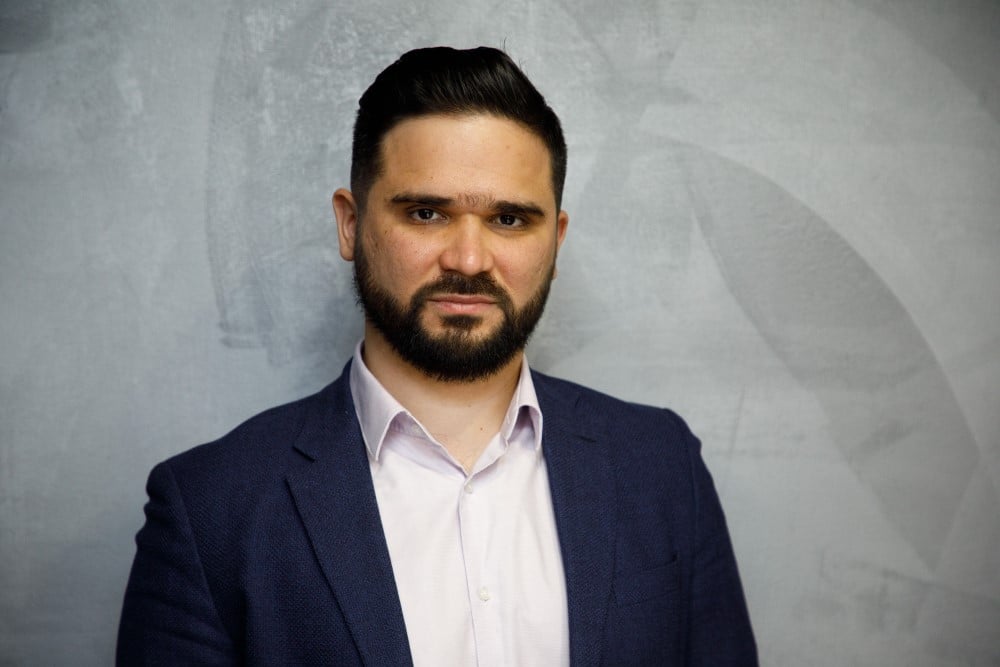 In view of this, participants of panel discussion several times brought up a challenge faced by Forex industry—gambling sector. The latter's product is more engaging & entertaining, has fewer intellectual barriers for new players, and adapts to new trends much quicker. Another response to the pandemic is the 'antiviral marketing'. Thousands of marketing professionals across the world rushed to capitalize on the topic of virus and the quarantine. However, it's gradually becoming a faux pas to exploit the pandemic, and experts even introduced new terms: 'COVID marketing fatigue' and 'COVID burnout'. People really do suffer from emotional burnout, tired of constantly being reminded of the disease and the restrictive measures, so it's clear they should be given a break.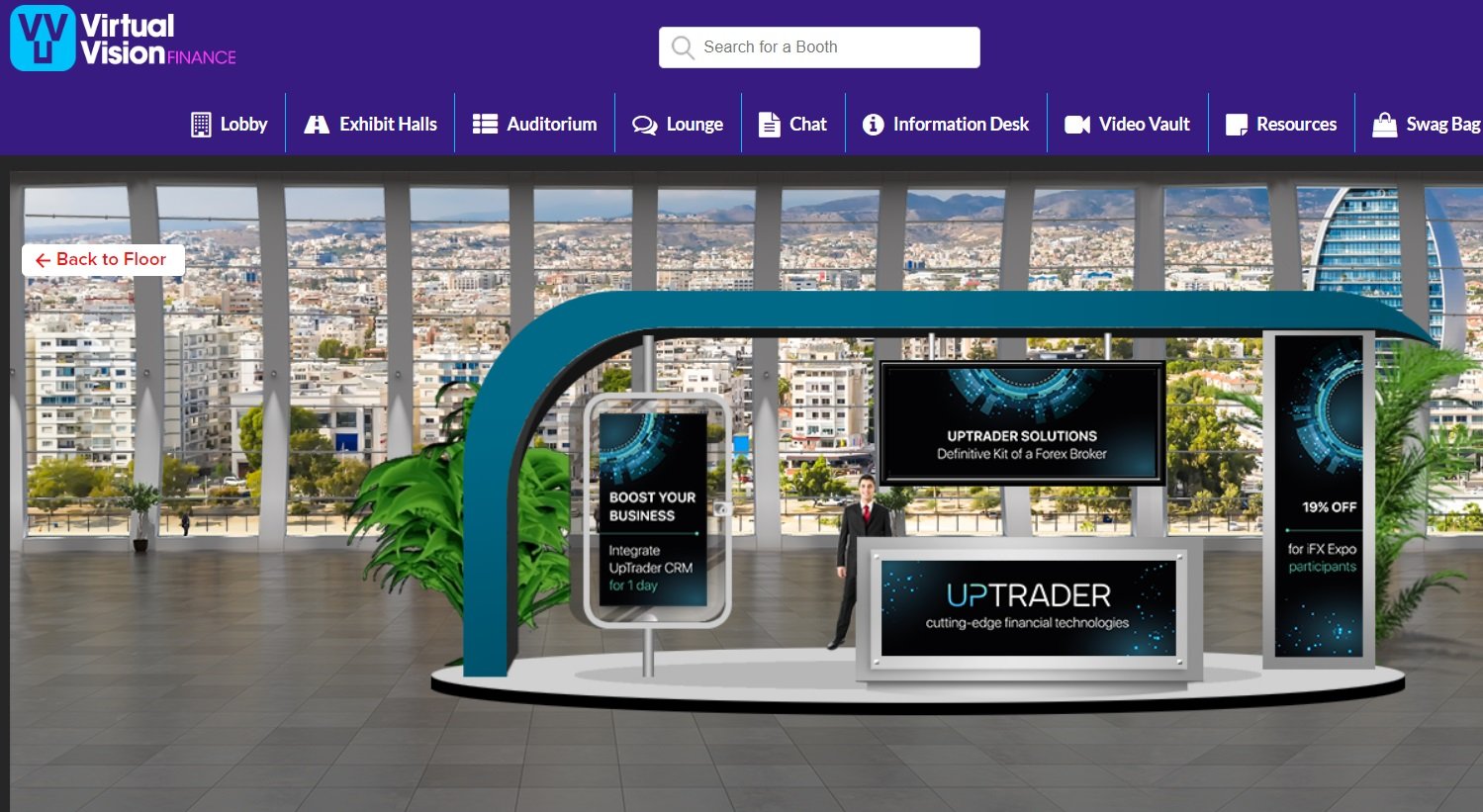 Finally, the general logistic insight. Entrepreneurs all over the world suddenly saw that it's not necessary to fly and spend money on trips to have productive communication with partners. People engaged in Forex industry, much like those in IT, by definition more open to remote work, find in it the same challenges as people working in other sectors do. Difficulties in communication with coworkers when solving current tasks, lack of informal communication, blurred lines between work and private life. We see how the coronavirus pandemic forces almost every worker and employer to reassess the basics of how their activity is organized. We live in a new world, with new formats, and the pandemic merely served as a catalyst for change in business processes and people's minds."
Subscribe to news
By clicking this button, you agree to our processing of your personal data
Recent news
UpTrader on iFXEXPO, 4-6 October, Cyprus
The main annual international fintech exhibition iFXEXPO will be held on 4-6th October 2021 in Cyprus. Vasily Alexeev, UpTrader CEO is going to be there. He will represent the UpTrader team and be ready to meet with our clients and partners.
UpTrader has released new services this year like a copy trading platform for MetaTrader 4 and MetaTrader 5, and it will be a pleasure to show you this popular service.
We are glad to invite all our clients and partners over there. This is a good occasion and nice place for efficient networking.
To make an appointment with Vasily Alexeev, please write to [email protected]
See you there!
23.09.2021
What to choose? White label MT 4 /5 vs MetaTrader 4/ 5 Full License
Taylor Bingwa, Customer success manager UpTrader
For entrepreneurs who are only starting their own forex brokerage companies it's not easy to realize which kind of a platform (MetaTrader 4 or MetaTrader 5) to choose and whether to buy a full license or a white label? It seems the differences, pros and cons are clear in general, but when it comes to the final decision, one might start to wonder what to choose. MetaTrader 4 or MetaTrader 5? What is better for business? A Full license or a White Label? Where are the benefits? As it is known the devil in the details. Let's find it out.
Full license or White Label MT4 / MT5?
Let's start with the definition of a White Label.
White Label is a type of a collaboration where one company rebrands services or products of another company and sells them as its own. In the forex world the term White Label is most often used for reselling MetaTrader 4 or MetaTrader 5 trading platforms. Only brokers which have a full MetaTrader license can provide MetaTrader White Label to other companies. They create new account groups, allocate space on their servers, and supply companies with their technical support staff. All these features are necessary for new brokers, but they can cost a lot in case they do it by themselves. That is why new companies prefer White Label rather than a full MetaTrader License. White Label allows you to get great services at a great price.
Pros and cons of buying a MetaTrader 4 / 5 full license
If you start a Forex brokerage firm, you definitely need to decide whether your clients will work with MetaTrader 4 or MetaTrader 5? In case you prefer to work only with MT4, your only choice is to buy White Label MetaTrader 4, because MetaQuotes stopped selling full MT4 licenses in 2020. So now only companies that bought licenses before 2020 can continue working with MT4 server. The rest of the companies can buy only the MT4 White Label. But anyway the MT4 license cost a fortune, so small brokers barely could afford it.
In case you are ready to work with MT5, you can buy the license directly on the MetaQuotes website. They offer a free set up and a $5K monthly fee. In addition you will have to pay $200-300 per month for servers and around $10K for your staff. To cut these costs you can outsource staff and server support to UpTrader, it will cost only $2000 per month.
Comparing White Label MetaTrader 4 to White Label MetaTrader 5. What to choose?
Actually, there is no right answer, both are perfect for trading. The choice depends more on your current business and future plans. But we have to mention that MT 4 developer MetaQuotes stopped selling MT4 a year ago, and now the main MetaQuotes product is the terminal MetaTrader 5. It means that there are no plans to develop the platform MT4, all resources are allocated to MetaTrader 5. By this the developer shows its intentions to advance only MT5.
MetaTrader 4 White Label will be the best choice for their own brokerage firm only for IBs (Introducing Brokers) whose clients are already used to MetaTrader 4. This is a right decision for this kind of Introducing Brokers. If you need WL MT4, White Label Forex Provider UpTrader has this option as well.
Talking about pros and cons of MT4 and MT5, just take a look at the comparison table with details about each one.
Also take a look at metaquotes' table.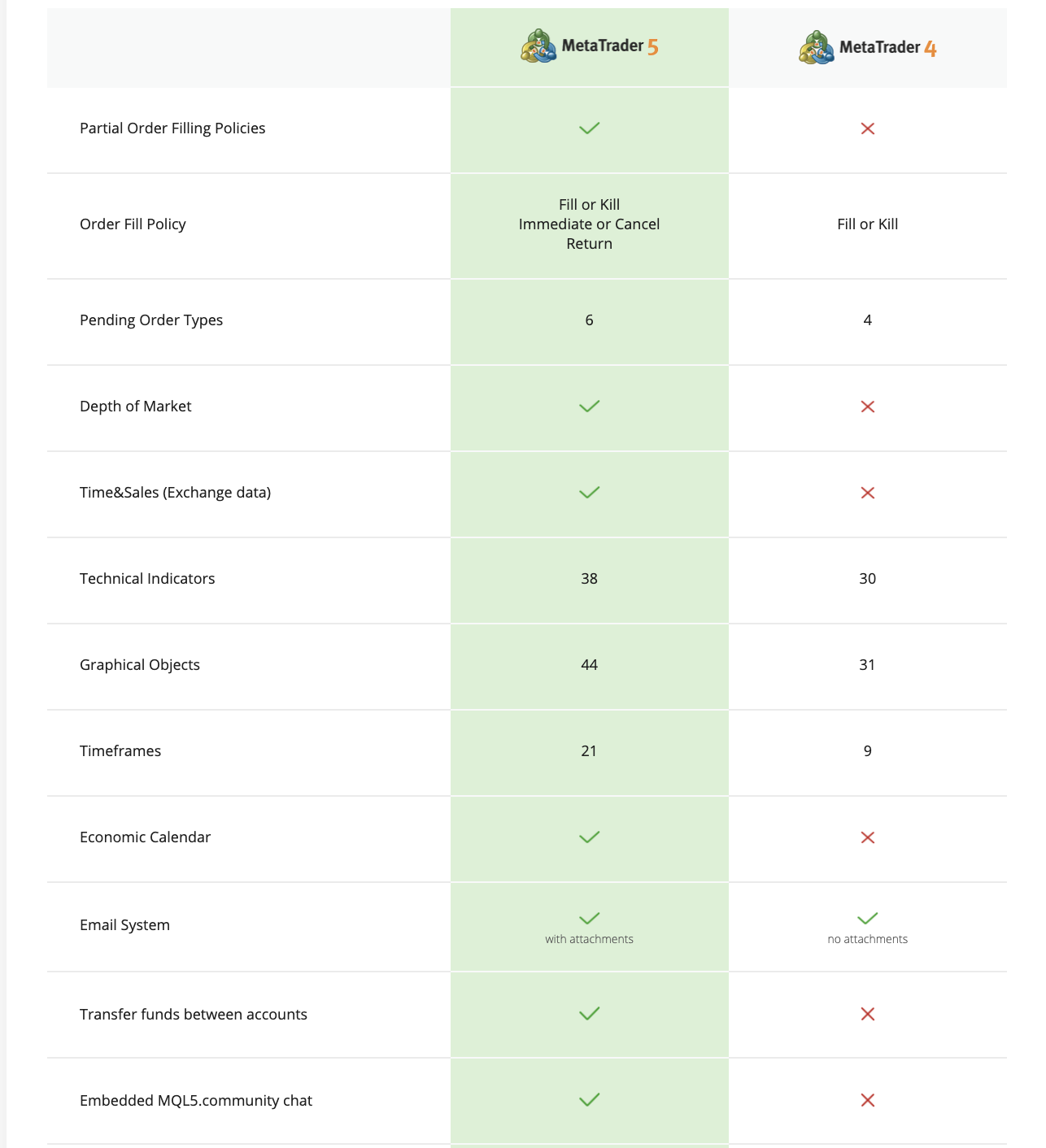 Conclusions:
If it's necessary for you to work with MT4, you need to choose a dependable provider.
If your choice is MT5, you can choose between MT5 Full License, MT5 White Label or the MT5 Full License + server and stuff outsourcing.
If you buy the MT5 Full License and manage the MT platform and servers by yourself, you pay around $15K per month. But your business is absolutely independent and you can do anything.
If you buy the full license and outsource server management and technical support staff, you pay around $7K. In this case you save a lot of money but still have flexibility in trading condition settings.
If you buy White Label from UpTrader, you pay $4000 per month and get a fully ready to use broker. But you don't have wide opportunities for your own settings. Still, you will have a choice of our ready-to-use settings, which are already tailored according to the best practices of the market.
Any questions left? Contact us and we will help you get answers.
Leave a request at uptrader.io and we call you back ASAP.
14.09.2021
Social trading software is available for MetaTrader 5 now
This week we have completed testing MT5 UpTrader Invest - a social trading platform for MT5 white label and forex brokers. It's the second investment service created by UpTrader. The first one was launched for the MetaTrader 4 platform in April 2021. So now all brokers that work with MT4 or MT5 White Label or have their own MetaTrader get the opportunity to level up their business with a well made social trading platform which gives you flexible settings and easy management.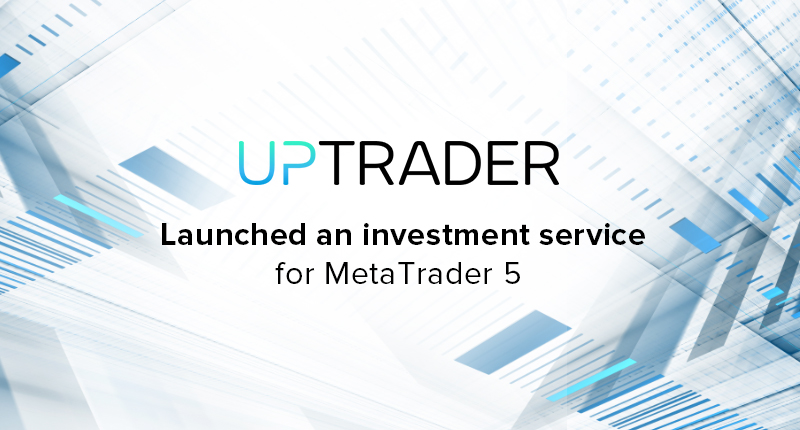 MT5 UpTrader Invest is based on the technologies of PAMM, MAM, and social trading. It means that you can choose how your money managers and clients will earn money with you. The main difference between these modules is how investors and masters will see the profit and funds.
If you choose MAM MT4 or MT5, the master (money manager) trades using investor funds, Investors can see individual trades.
If you choose PAMM, the master trades using investor funds, Investors can't see individual trades.
If you choose Social trading platform, master can't see all the funds,
Investors can see individual trades.
The features of the copy trading platform "MT5 UpTrader Invest"
Stability:
The main thing is that our copy trading platform is highly stable. That means there is no loss of connection during copying of trades. A lot of similar investment services have such problems, and it makes their services poor. That's why we had found a solution before we started to develop this platform. As a result our clients have a quality service for their investors.
The good news is that brokers can keep earning money how they are used to.
It means that anything already used by the broker will be ok: spreads, fees, automated trading advisors. The copy trading platform works with any variations of A-book and B-book. In addition, A-book brokers will be able to hedge their risk more efficiently.
Forex affiliates (Introducing Brokers):
If you have a multi-level partnership program and work with forex affiliates, you can let them use our copy trading software to help attract new customers. The partnership reward will be paid out automatically as usual.

- To get information about all the features, please go to the page.
- If you are interested in a forex social trading platform white label for MetaTrader 4 please go to the link for a big interview with UpTrader CEO Vasily Alexeev about 'MT4 UpTrader Invest"
- Also you can leave a request for a presentation and we will contact you as soon as possible. [email protected]
Terms
PAMM - percentage allocation management module (Similar to MAM, but the history of trades isn't available to investors)
MAM MT4 and MT5 - Multi Account Manager in this solution, the trader operates in the accounts of several clients at once. Investors transfer their funds to the accounts of managers. Each client has an account to track their part of the common trades.

Social trading - automated copying of trades to the accounts of investors. Funds remain in investment accounts, and the trades are also placed there.
Social trading software /platform - investment service for MetaTrader 4 / MetaTrader 5 white label copy trading platforms which allows your customers to invest in investment strategies and get profit by coping orders from successful trading accounts.
23.07.2021
Subscribe to news
By clicking this button, you agree to our processing of your personal data