Main
About
News
UpTrader launches a flexible management system for partnership programs in the Forex CRM
UpTrader launches a flexible management system for partnership programs in the Forex CRM
09.12.2019
UpTrader introduces a set of updates to Forex CRM, allowing for automated and in-depth work with partners. Brokers can now configure conditions individually for each partner, while partners will receive detailed reports on all payouts.
The team of UpTrader has enhanced the back office and the admin cabinet with a possibility to see the relationship between partners and clients (the feature shows whose client someone is). Partner links are generated automatically.
All new features added to Forex CRM are designed to help partners and brokers choose the optimal plan for each individual case.
Flexible payout settings for different instruments
This feature will be especially useful to brokers who offer a large number of trading instruments. Now, a separate partner payout plan can be implemented for each category of instruments, or a separate plan for each partner: for example, a fixed commission for the volume or a percentage of the spread.
Let's look at an example:
A broker offers a wide selection of trading instruments: currency pairs, stock and energy CFDs. A reasonable commission for popular pairs with tight spreads (e.g. EUR/USD) would be a fixed $10 per lot so that the partners can easily recognize the advantage. The broker sets up this plan for the category of major currency pairs. At the same time, exotic pairs have large spreads that strongly vary from instrument to instrument, so the broker sets the commission at 30% of the spread for each individual trade. And as for CFDs, this value maybe 50% of the commission.
Multilevel partnership
Another addition to CRM for forex is the new multilevel partnership program with an unlimited number of levels. Partners can now create networks of any depth, while brokers set reward conditions for each level individually. Partners can follow the growth of their network in the personal area and keep track of the clients of their sub-partners.
For example, a broker wants to create a multilevel referral network and reward partners for high performance and creation of their own networks by setting up rewards for every new level. The broker creates a three-level partnership network and set the following reward plan: the broker's partners get 10% of the rewards of their first-level sub-partners and 7% of their second-level sub-partners' rewards.
Partners have access to flexible settings of spread for their clients
Spread increase is very relevant to partners of brokers whose main income is based on commissions. The same plan is also useful to money managers who receive clients' funds for management and earn from the spreads and commissions for the trades.
The brokers themselves can use CRM to cap the possible increase of service prices by their partners or disable this feature completely.
For example, with the broker's consent, a partner sets up an extra commission in UpTrader CRM and larger spreads for their clients, while profit goes directly to the partner. If each party is satisfied with the commission, the partner continues the active operation, attracting more clients for the broker and ramping up the trading volumes. This scenario is favorable to each party: the broker gets large volumes, the partner—high commissions, the client—profitable trades.
About UpTrader Forex CRM
Over 10 years of experience with various brokerage CRM systems enabled the experts at UpTrader to analyze the best solutions out there and implement them together.
UpTrader Forex СRМ was developed specifically for brokerage firms taking into account the specifics of online retail services in Forex. The new CRM for forex is designed to speed up the task solving process and make the learning curve less steep for the staff. UpTrader Forex CRM includes the trader's area, forex back office (interface for the company's employees), admin cabinet with flexible access settings for the manager, additional functionality for the staff and clients.
UpTrader has resolved the core issues for traders and brokers that arose from other business solutions. However, the team doesn't intend to stop here and rolls out regular updates, enhancing the system, each time expanding the systems with new features and capabilities.
See the presentation to learn about all the capabilities of UpTrader Forex CRM.

Find out how to set up forex affiliate program
Find out about new report for forex affiliate program
Subscribe to news
By clicking this button, you agree to our processing of your personal data
Recent news
UpTrader on iFXEXPO, 4-6 October, Cyprus
The main annual international fintech exhibition iFXEXPO will be held on 4-6th October 2021 in Cyprus. Vasily Alexeev, UpTrader CEO is going to be there. He will represent the UpTrader team and be ready to meet with our clients and partners.
UpTrader has released new services this year like a copy trading platform for MetaTrader 4 and MetaTrader 5, and it will be a pleasure to show you this popular service.
We are glad to invite all our clients and partners over there. This is a good occasion and nice place for efficient networking.
To make an appointment with Vasily Alexeev, please write to [email protected]
See you there!
23.09.2021
What to choose? White label MT 4 /5 vs MetaTrader 4/ 5 Full License
Taylor Bingwa, Customer success manager UpTrader
For entrepreneurs who are only starting their own forex brokerage companies it's not easy to realize which kind of a platform (MetaTrader 4 or MetaTrader 5) to choose and whether to buy a full license or a white label? It seems the differences, pros and cons are clear in general, but when it comes to the final decision, one might start to wonder what to choose. MetaTrader 4 or MetaTrader 5? What is better for business? A Full license or a White Label? Where are the benefits? As it is known the devil in the details. Let's find it out.
Full license or White Label MT4 / MT5?
Let's start with the definition of a White Label.
White Label is a type of a collaboration where one company rebrands services or products of another company and sells them as its own. In the forex world the term White Label is most often used for reselling MetaTrader 4 or MetaTrader 5 trading platforms. Only brokers which have a full MetaTrader license can provide MetaTrader White Label to other companies. They create new account groups, allocate space on their servers, and supply companies with their technical support staff. All these features are necessary for new brokers, but they can cost a lot in case they do it by themselves. That is why new companies prefer White Label rather than a full MetaTrader License. White Label allows you to get great services at a great price.
Pros and cons of buying a MetaTrader 4 / 5 full license
If you start a Forex brokerage firm, you definitely need to decide whether your clients will work with MetaTrader 4 or MetaTrader 5? In case you prefer to work only with MT4, your only choice is to buy White Label MetaTrader 4, because MetaQuotes stopped selling full MT4 licenses in 2020. So now only companies that bought licenses before 2020 can continue working with MT4 server. The rest of the companies can buy only the MT4 White Label. But anyway the MT4 license cost a fortune, so small brokers barely could afford it.
In case you are ready to work with MT5, you can buy the license directly on the MetaQuotes website. They offer a free set up and a $5K monthly fee. In addition you will have to pay $200-300 per month for servers and around $10K for your staff. To cut these costs you can outsource staff and server support to UpTrader, it will cost only $2000 per month.
Comparing White Label MetaTrader 4 to White Label MetaTrader 5. What to choose?
Actually, there is no right answer, both are perfect for trading. The choice depends more on your current business and future plans. But we have to mention that MT 4 developer MetaQuotes stopped selling MT4 a year ago, and now the main MetaQuotes product is the terminal MetaTrader 5. It means that there are no plans to develop the platform MT4, all resources are allocated to MetaTrader 5. By this the developer shows its intentions to advance only MT5.
MetaTrader 4 White Label will be the best choice for their own brokerage firm only for IBs (Introducing Brokers) whose clients are already used to MetaTrader 4. This is a right decision for this kind of Introducing Brokers. If you need WL MT4, White Label Forex Provider UpTrader has this option as well.
Talking about pros and cons of MT4 and MT5, just take a look at the comparison table with details about each one.
Also take a look at metaquotes' table.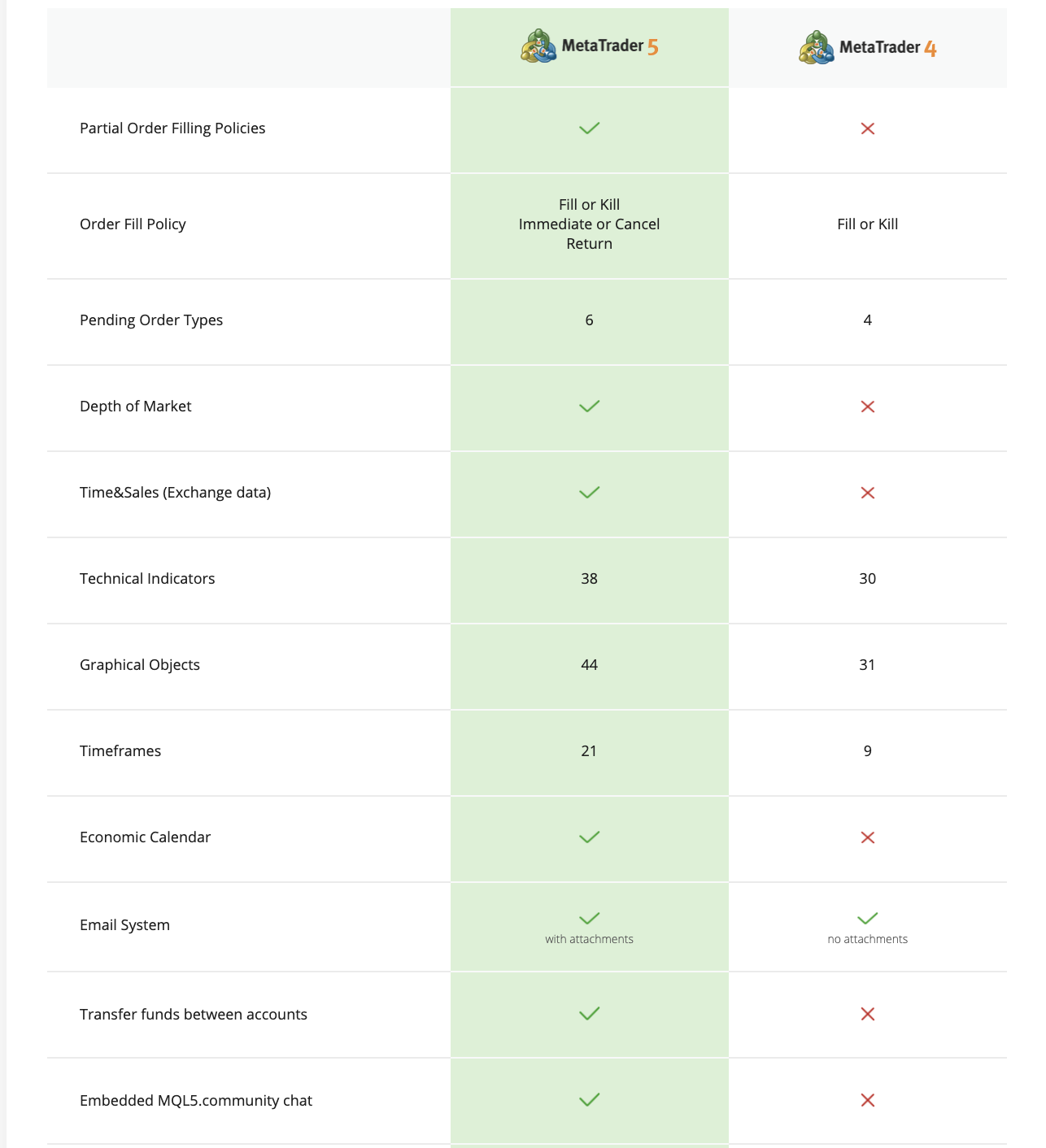 Conclusions:
If it's necessary for you to work with MT4, you need to choose a dependable provider.
If your choice is MT5, you can choose between MT5 Full License, MT5 White Label or the MT5 Full License + server and stuff outsourcing.
If you buy the MT5 Full License and manage the MT platform and servers by yourself, you pay around $15K per month. But your business is absolutely independent and you can do anything.
If you buy the full license and outsource server management and technical support staff, you pay around $7K. In this case you save a lot of money but still have flexibility in trading condition settings.
If you buy White Label from UpTrader, you pay $4000 per month and get a fully ready to use broker. But you don't have wide opportunities for your own settings. Still, you will have a choice of our ready-to-use settings, which are already tailored according to the best practices of the market.
Any questions left? Contact us and we will help you get answers.
Leave a request at uptrader.io and we call you back ASAP.
14.09.2021
Social trading software is available for MetaTrader 5 now
This week we have completed testing MT5 UpTrader Invest - a social trading platform for MT5 white label and forex brokers. It's the second investment service created by UpTrader. The first one was launched for the MetaTrader 4 platform in April 2021. So now all brokers that work with MT4 or MT5 White Label or have their own MetaTrader get the opportunity to level up their business with a well made social trading platform which gives you flexible settings and easy management.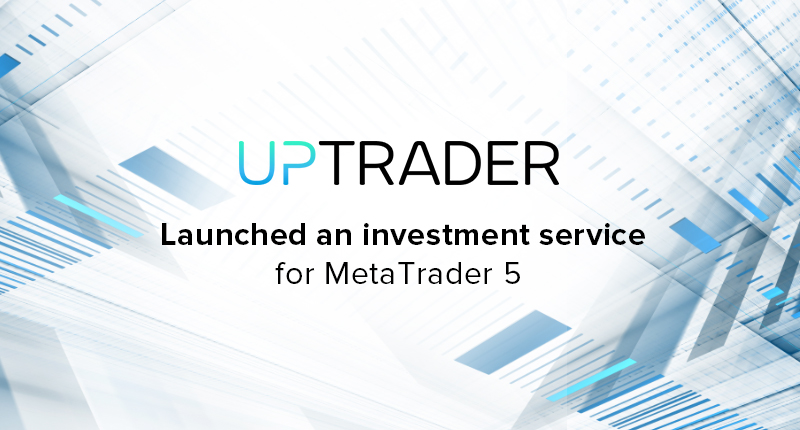 MT5 UpTrader Invest is based on the technologies of PAMM, MAM, and social trading. It means that you can choose how your money managers and clients will earn money with you. The main difference between these modules is how investors and masters will see the profit and funds.
If you choose MAM MT4 or MT5, the master (money manager) trades using investor funds, Investors can see individual trades.
If you choose PAMM, the master trades using investor funds, Investors can't see individual trades.
If you choose Social trading platform, master can't see all the funds,
Investors can see individual trades.
The features of the copy trading platform "MT5 UpTrader Invest"
Stability:
The main thing is that our copy trading platform is highly stable. That means there is no loss of connection during copying of trades. A lot of similar investment services have such problems, and it makes their services poor. That's why we had found a solution before we started to develop this platform. As a result our clients have a quality service for their investors.
The good news is that brokers can keep earning money how they are used to.
It means that anything already used by the broker will be ok: spreads, fees, automated trading advisors. The copy trading platform works with any variations of A-book and B-book. In addition, A-book brokers will be able to hedge their risk more efficiently.
Forex affiliates (Introducing Brokers):
If you have a multi-level partnership program and work with forex affiliates, you can let them use our copy trading software to help attract new customers. The partnership reward will be paid out automatically as usual.

- To get information about all the features, please go to the page.
- If you are interested in a forex social trading platform white label for MetaTrader 4 please go to the link for a big interview with UpTrader CEO Vasily Alexeev about 'MT4 UpTrader Invest"
- Also you can leave a request for a presentation and we will contact you as soon as possible. [email protected]
Terms
PAMM - percentage allocation management module (Similar to MAM, but the history of trades isn't available to investors)
MAM MT4 and MT5 - Multi Account Manager in this solution, the trader operates in the accounts of several clients at once. Investors transfer their funds to the accounts of managers. Each client has an account to track their part of the common trades.

Social trading - automated copying of trades to the accounts of investors. Funds remain in investment accounts, and the trades are also placed there.
Social trading software /platform - investment service for MetaTrader 4 / MetaTrader 5 white label copy trading platforms which allows your customers to invest in investment strategies and get profit by coping orders from successful trading accounts.
23.07.2021
Subscribe to news
By clicking this button, you agree to our processing of your personal data