UpTrader launches a flexible management system for partnership programs
09.12.2019
UpTrader introduces a set of updates to CRM, allowing for automated and in-depth work with partners. Brokers can now configure conditions individually for each partner, while partners will receive detailed reports on all payouts.
The team of UpTrader has enhanced the back office and the admin cabinet with a possibility to see the relationship between partners and clients (the feature shows whose client someone is). Partner links are generated automatically.
All new features added to CRM are designed to help partners and brokers choose the optimal plan for each individual case.
Flexible payout settings for different instruments
This feature will be especially useful to brokers who offer a large number of trading instruments. Now, a separate partner payout plan can be implemented for each category of instruments, or a separate plan for each partner: for example, a fixed commission for the volume or a percentage of the spread.
Let's look at an example:
A broker offers a wide selection of trading instruments: currency pairs, stock and energy CFDs. A reasonable commission for popular pairs with tight spreads (e.g. EUR/USD) would be a fixed $10 per lot so that the partners can easily recognize the advantage. The broker sets up this plan for the category of major currency pairs. At the same time, exotic pairs have large spreads that strongly vary from instrument to instrument, so the broker sets the commission at 30% of the spread for each individual trade. And as for CFDs, this value maybe 50% of the commission.
Multilevel partnership
Another addition to CRM is the new multilevel partnership program with an unlimited number of levels. Partners can now create networks of any depth, while brokers set reward conditions for each level individually. Partners can follow the growth of their network in the personal area and keep track of the clients of their sub-partners.
For example, a broker wants to create a multilevel referral network and reward partners for high performance and creation of their own networks by setting up rewards for every new level. The broker creates a three-level partnership network and set the following reward plan: the broker's partners get 10% of the rewards of their first-level sub-partners and 7% of their second-level sub-partners' rewards.
Partners have access to flexible settings of spread for their clients
Spread increase is very relevant to partners of brokers whose main income is based on commissions. The same plan is also useful to money managers who receive clients' funds for management and earn from the spreads and commissions for the trades.
The brokers themselves can use CRM to cap the possible increase of service prices by their partners or disable this feature completely.
For example, with the broker's consent, a partner sets up an extra commission in UpTrader CRM and larger spreads for their clients, while profit goes directly to the partner. If each party is satisfied with the commission, the partner continues the active operation, attracting more clients for the broker and ramping up the trading volumes. This scenario is favorable to each party: the broker gets large volumes, the partner—high commissions, the client—profitable trades.
About Uptrader CRM
Over 10 years of experience with various brokerage CRM systems enabled the experts at UpTrader to analyze the best solutions out there and implement them together.
UpTrader СRМ was developed specifically for brokerage firms taking into account the specifics of online retail services in Forex. The new CRM is designed to speed up the task solving process and make the learning curve less steep for the staff. UpTrader CRM includes the trader's area, back office (interface for the company's employees), admin cabinet with flexible access settings for the manager, additional functionality for the staff and clients.
UpTrader has resolved the core issues for traders and brokers that arose from other business solutions. However, the team doesn't intend to stop here and rolls out regular updates, enhancing the system, each time expanding the systems with new features and capabilities.
See the presentation to learn about all the capabilities of UpTrader CRM.
 
Subscribe to news
By clicking this button, you agree to our processing of your personal data
Recent news
How to choose a jurisdiction for Forex brokerage. EU vs offshore Forex license
Every new player in the brokerage business inevitably faces the need to obtain a license, since Forex trading comes with special regulations. No need for panic: the process of applying for and obtaining a Forex license is not as scary as it might seem at first glance. Where to begin with getting a license, how to choose a suitable jurisdiction and how much it will cost you — let's find out right now.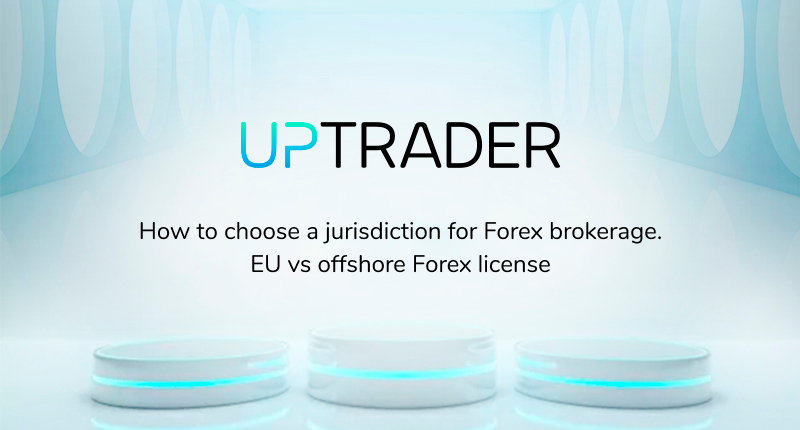 Forex is a very competitive and demanding industry. The right choice of jurisdiction for obtaining a license is one of the key factors that will determine the success of your company, so it must be approached very carefully. Before settling upon a particular region, you need to see which jurisdictions offer the best conditions for doing business, as well as consider the psychology of your future clients.
First thing to remember is that there is no simple path that will magically lead you to become a licensed broker. Legal and regulatory responsibility requires doing a lot of paperwork and signing agreements, but the payback is definitely worth it.
If you want to make your life easier, we are ready to help you with the most common challenges, such as registering a business and choosing a jurisdiction. Depending on the countries you plan to work in, what financial risks you are willing to bear, and what type of broker you want to launch, we will choose the regulator that will not be a hindrance to your operation. UpTrader provides a full range of legal services both as a standalone package, and as part of White Label Meta Trader 4 and Meta Trader 5 offerings.
There are 2 main options: offshore or European licensing. Let's take a closer look at both of them.
Offshore license
Offshore licensing are the most common and simplest option in the business. It is popular due to its low cost and fast registration. On average, obtaining an offshore license will cost you $20,000 and will take about 2.5–3 months. Among other benefits, doing business in an offshore jurisdiction allows optimizing the tax burden.
The main advantages of having offshore companies:
low taxation
flexible legislation
support of foreign businessmen at all levels
All these advantages provide good business opportunities. You will protect your company not only from liquidation attempts, but also against illegal claims.
Unfortunately, not everything is so simple. There are drawbacks to registering an offshore company. For example, the restrictions on the part of many countries. Some states, such as the USA and EU countties, put companies that are registered in such regions under more thorough scrutiny, which will slow down your ability to fulfill financial obligations.
Here are the most convenient zones for doing business related to financial services:
1. Belize is an offshore zone with a stable economy and financia sector, which is advantageous for registering a foreign company, including the brokerage niche.
2. Vanuatu is a great place to start a Forex company due to its simple requirements and tax incentives.
3. The British Virgin Islands (BVI), Mauritius, and the Bahamas are popular because of the low taxes, which also applies to licensed activities.
4. Saint Vincent and the Grenadines (SVG) is one of the most confidential business jurisdictions.
European license
A European financial license for your business will undoubtedly ensure a solid reputation and credibility. Clearly, it won't be cheap (at least $50,000 for the registration), you still have to deposit funds into a bank account for your company's authorized capital. Registration of a company and obtaining a license will take about a year. In European jurisdictions, there are strict accounting and reporting regulations, as well as a local office is also a requirement. Among the Western jurisdictions, New Zealand and Cyprus are the most favorable in terms of taxation, the cost of setting up a company and registration in general. The cost of a license here starts from about $35,000.
As we have already mentioned, when choosing a jurisdiction, it is very important to take into account the region your company's activities will be focused on, as well as how important it is for potential clients to deal specifically with the European jurisdiction. The key is to determine in which bank you would like to open an account for your company. The reputation of the bank is in direct ratio totrust of your future clients . For example, it is almost impossible to open an account in a prestigious European bank for a company registered in Belize.
Criteria for choosing a jurisdiction
We have already considered the distinctive features and differences of obtaining licenses in offshore and European jurisdictions. Here is some practical advice on choosing the right jurisdiction for your business.
1. First of all, pay attention to the registration costs. In some countries, the registration process is quite simple and doesn't take much time, therefore registration fees and requirements are low.
2. The second point to pay attention to is the conditions of obtaining a brokerage license. The cost of such a license can be quite high, and the time it takes to obtain it varies from a couple of weeks to a year. In some offshore jurisdictions, the activity of Forex brokers isn't legally regulated, so brokers must make an important decision for themselves whether to do business in countries with a weak legal field, given that this may be negatively perceived by partners, investors, clients, and banks.
3. Political stability in the country also plays an important role. You need to make sure that your chosen zone has a strong legal system, transparent economic policies, and a stable currency without restrictions on investment repatriation. Business processes can be influenced by various political factors, for example, the risk of a new government coming to power and tax relief due to international political pressure.
4. Don't forget about the peculiarities of the tax regime. Some offshore jurisdictions have lower tax rates, and there are also zones with zero taxation status. However, tax exemption is not always the deciding factor.
Finally, we should mention the meaning of the blacklist. This list is regularly updated by the Financial Action Task Force on Money Laundering (FATF). It includes a list of jurisdictions that are not considered for cooperation in the global fight against money laundering and terrorist financing.
Contact us at https://uptrader.io/
04.05.2021
UpTrader website gets localization in three Asian languages
Brokerage software has always been in high demand in the Asia-Pacific region, and even in the times of the pandemic, the number of requests has only gone up.

We're making an effort to speak the same language with our clients, literally. As we secure our presence on the new markets, we adapt our products to the local languages.
Today, we're proud to announce that the UpTrader website is available in three new languages: Thai, Vietnamese, and Chinese.
Meanwhile, UpTrader CRM is available in Arabic, English, French, Italian, Russian, Thai, and Vietnamese.
Yours truly,
UpTrader team
25.04.2021
UpTrader launches a new investment service
Today, April 12th, marks the completion of the final testing stage of our new product—the investment service UpTrader Invest—and now it's available to customers. Integration of the platform into a brokerage business takes just one day. Currently, the service only works with MT4, but the MT5 version is planned next.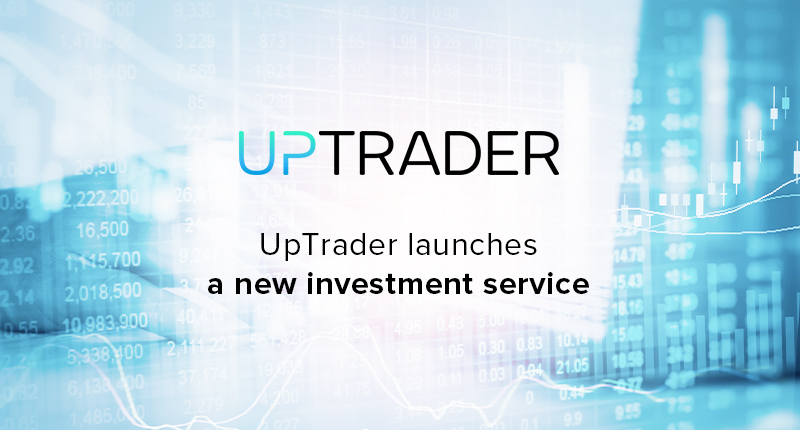 UpTrader Invest is a plug-in for MT4 based on the technologies of PAMM, MAM, and social trading. It allows investors of any level of expertise to immediately start investing and generating profits from Forex trading. The hallmark of the new platform is its userfriendly interface for all three parties: brokers, investment account managers, and investors. Flexible settings allow selecting between profit distribution systems and managing risks.

Vasily Alexeev, UpTrader CEO

"We often receive requests for PAMM, sometimes LAMM and MAM. When we try to understand why they want one particular product or another, we realize that the most don't see any difference between them. For example, PAMM is much more widely known than the others, so it gets requested more often, despite it being mostly the same as MAM. Essentially, these three are the same platform under different brands, they're based on a very similar principle of operation. We've long understood: when a client asks for an investment service, they just want a simple and reliable instrument for their clients, and the terminology isn't important. What's important, though, is that the service must be easy and comfortable to use. That's why we have combined the most popular settings of PAMM, MAM, and social trading, designed a simple interface, and paid special attention to stability: the dangers of lost connection or inaccurate copying of trades are eliminated. Our investment service is already integrated into UpTrader CRM. This means that by buying our CRM, a broker immediately receives a great instrument that can start bringing profits as early as the next day."

Key features of UpTrader Invest:
—There are no restrictions for brokers concerning the way they want to generate profits using this service. Any scheme already used by the broker will suit: spreads, fees. The service works with any variations of A-book and B-book. In addition, A-book brokers will be able to hedge their risk more effectively when working in MAM or PAMM mode.
—No restrictions for partnership programs. If a partner brings new clients with investment accounts, the partner reward will be paid out automatically.
—There are three reward schemes for the manager available in the settings: payment per the manager's trading volume, percentage of profits generated in a certain time period set by the manager, high watermark—payment only for the difference in balance (only when the value is positive).

—When choosing a manager in the client interface, investors see their history of profit, preferred trading instruments, reward scheme, and, of course, options of backing out from the strategy, there are three of them: immediate exit, exit after the manager's approval, exit with rollovers. All further information is available to investors in real time in their client interface, in MetaTrader 4 mobile app, or in the web/desktop terminal.

Get more detailed information on the service and request a trial: [email protected]

Yours truly,
UpTrader team
12.04.2021
Subscribe to news
By clicking this button, you agree to our processing of your personal data