UpTrader Forex CRM Has Added a New Visual Report System
04.09.2019
UpTrader Forex CRM now graphically visualizes all the stats needed for brokers and partners.
The UpTrader team has recently integrated a new informative visual analytics page. The new dashboard provides structured information on the number of registrations, opened accounts, withdrawals and deposits using colorful charts.
The analytics page is available for brokers and its staff in the back office interface, as well as for partners. Partners and brokers alike will be able to set monthly goals and monitor their implementation. Graphics show clients' achievements within a chosen time frame.
The client interface now has a new detailed section for partners. The latest updates bring extensive statistics for partners on their clients' activity.
This visual report system allows both brokers and partners to set clear objectives for their sales team to attract customers, monitor their activity and results.
About UpTrader Forex CRM
UpTrader's 10 years experience in working with different Forex CRM on Forex market has allowed to analyze the most effective solutions and put them into practice.
Vasily Alexeev, CEO UpTrader
"CRMs that we used to work with were visually unattractive and had poorly designed interfaces. It was a major obstacle to mastering and effective usage of these programs by brokerage staff. As a result, it affected the speed of task execution, the quality of customer service, and consequently, the company's profit. So we set out to create a Forex CRM that differs from everything we worked with before. It had to be multifunctional, reliable and helpful in business. Our efforts bore fruit: our CRM is being used by numerous companies, and we receive positive feedback from them."
The new CRM was designed from the ground up specifically for retail Forex brokerage business. It aims to increase the speed of solving simple tasks and make its adoption by employees easier. UpTrader CRM for forex includes a trader's room, a back-office interface for the staff of the company, and an administrator's section with flexible settings of access levels and available features for staff and traders.
Trader's room
The trader's room is simple and easy to understand even for novice forex traders. Fast registration and instant verification of a client's identity rids both customers and brokers' staff of unpleasant time-consuming routine processes.
Managing accounts will not become a challenge for a trader due to clarity of the operations' history. Moreover, for clients' convenience, a broker is able to integrate a web trading terminal into the personal account and rid customers of having to log in to the terminal every time.
Customers can read the latest financial markets news and daily technical analysis and monitor trends with the calendar of key economic events in the forex world.
Forex Back-office
The back-office interface was created for operational control and management of a company's business processes. Back-office employees can monitor a client's activity - view deposits, withdrawal requests, and operations history.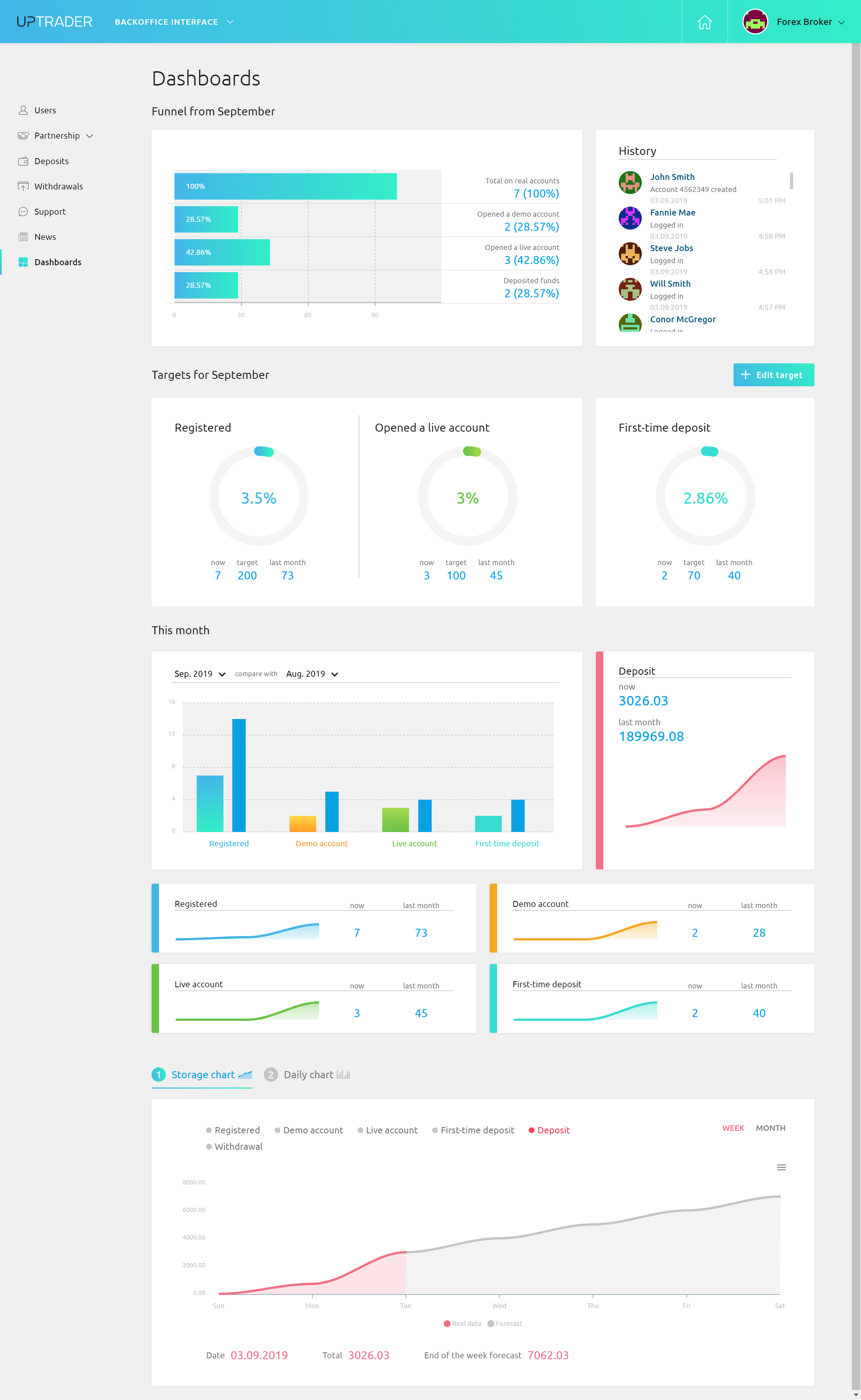 Information on the partner's activity is also displayed on a dedicated page, where one can see the number of clients, their activity, partnership rewards, bonuses, and personal data.
UpTrader developers also provided for and worked out in detail the system of client support. The administrator can monitor the quickness and quality of the support department responses to clients' requests.
It is possible to integrate Forex CRM into a trading platform in a couple of clicks. A broker can offer its clients to download MT4, MT5 or other trading platforms right in the trader's room.
Administrator's interface
In the admin interface, a broker can customize Forex CRM and the trader's room both visually and feature-wise. For instance, it is possible to translate it in any language, assign responsibilities and access levels for employees and make the interface match the corporate identity. The administrator defines settings and services for clients.
Brokers can integrate news, analytics, and calendar of key events in the financial world. Thanks to the valuable content for traders the system can become not only a platform for managing accounts but a source of information for market analysis. It can stimulate clients to actively get involved in the trading process. In order to draw attention to a product or a special offer, brokers can launch ad campaigns to be displayed on the trader's room.
UpTrader solves key problems that universal Forex CRM solutions have, being difficult to adapt to forex brokers' mission. Moreover, the team is regularly releasing new updates. Follow UpTrader news to learn about the changes, that enrich the system with new features and capabilities.
Take a more detailed look at UpTrader Forex CRM by downloading the presentation.
Find out about new report for forex affiliate program
Find out about flexible affiliate managment system
Subscribe to our news
By clicking this button, you agree to us processing your personal data
Recent news
Expand your business worldwide with UpTrader Pay!
For online companies, business has long stopped being about providing a local service for clients from a particular city or country. A successfully launched business cannot stay locked in one region for long, and if the owner thinks globally, they will act the same way. The main task of an international online business is to accept local payments. For example, in Indonesia, Help2Pay or Fasapay are popular payment systems, while in Namibia, only banks transfers are in use and they need banks details much more than they need payment systems. The more systems are integrated into your CRM, the more clients from different countries will be able to buy your service.
There are some companies on the market which provide payment management systems for CRMs. All you have to do is pay for a subscription, and the payment management module will be fully integrated into your CRM. The fee, however, may be quite high. UpTrader also provides this module, and it is already integrated into our CRM along with ready-to-use payment systems. We do not charge separately for it.
We have already integrated more than 50 payment systems into our CRM, and new ones are being added all the time.
UpTrader Pay settings
The module was tailored to the demands of Forex brokers, so it has a wide range of options. So, for your clients' convenience, you can:
1. Set a country filter.
For example, you work with clients from Indonesia, South Africa, and Germany. You have more than 50 payment systems. Not all of them work for these clients. To avoid confusion, you can only show them options available in their country. UpTrader Pay lets you change the visibility settings to only show certain payment systems for customers registered in a particular country.
2. Set a rule for new and old clients.
For example, you work with payment systems that require meeting certain criteria for clients, such as successful KYC. Therefore you can set such a rule to show new clients certain payment systems that accept new clients but charge high commissions. As well you can show another bunch of payment systems for old clients with lower commicions.
3. Visa and Mastercard.
Only show Visa and Mastercard and automatically substitute payment systems depending on the country.
4. Set a filter by registration date.
For some companies, client registration date is important. For example, you would like to give a bonus to new clients, a commission refund or a deposit bonus when depositing through a certain payment system. You can set up this payment system to be visible only to clients with a certain registration date.
UpTrader Payment Management Value-adds
No monthly fee

More than 50 payment systems already integrated

New payment system integration in 2 weeks

Free integration of one payment system per month

Country, deposit, registration date settings

Fully integrated into UpTrader CRM

User-friendly interface
30.11.2022
Set up your bonus program with the 4 bonus type in the Forex CRM
We won't say much about why bonuses are so popular. The interest in them never fades. Every new broker launches some kind of a bonus system.
In UpTrader CRM, there are four types of ready-to-use bonuses: % on deposit, welcome bonus, % on balance, or monthly interest, and manual bonus. The settings for each of them allow you the flexibility to make them work for you.
There are 4 bonus types you can set up right away in UpTrader Forex CRM:
% on deposit
Deposit bonus is the most popular bonus type, since it is designed to encourage those who deposit the account. Everybody wins: the client does because they receive more benefits and trading opportunities, and the broker wins because they land a client who is truly ready to trade. Usually, the broker settles on the conditions and the bonus amount, for example, +50% to the deposit amount when depositing from $50 to $10,000. In the "conversion" field, the broker can specify the conditions under which the bonus funds can be converted to cash and become available for withdrawal.
Monthly interest
A monthly interest bonus has also gained popularity because it helps build loyalty and encourages clients to stay with the broker longer and to keep more money in their accounts since it becomes more profitable to do that. For example, a broker can set a required minimum account balance for a certain day of the month. If the requirement is met, a client receives a bonus on the balance. The conditions for cashing the bonus are also set in the CRM.
Welcome bonus
The main rule for this bonus is that a client can only receive it once.A welcome bonus is a popular way to generate traffic. The best way to attract a lot of cheap traffic is to offer free money. But can you turn that traffic into clients? That remains to be seen.
Manual bonus
The superpower of a manual bonus means that you can give it just like that. If a manager wants to give out a bonus, they can do it without setting any conditions. This is a very handy sales tool which often helps in the moment.
For each bonus, you can specify description and condition fields. Create your own conditions for bonus programs using our settings!
If any questions talk to our expert in live chat or emal us [email protected]
28.11.2022
Connect crypto gateway and automate cryptocurrency payments
The main disadvantage of accepting payments in cryptocurrency is the lack of familiar interface. When paying by card or through a popular EPS (electronic payment systems), no special skills are required to transfer money, all the fields are familiar, processes are automated, crediting is predictable. Cryptocurrency payment is not a mass method yet, and often such payments are made manually, which is inconvenient both for clients and for the company.
The manual way of accepting cryptocurrency payments from brokers' clients looks something like this:
1) A broker manually creates a payment system in the CRM and specifies in the description an address to which cryptocurrency needs to be transferred.
2) Before transferring money to the broker's wallet, clients need to create a request through this payment system in the CRM.
3) To process these requests, the broker needs to manually open their crypto wallet, check which of these requests are paid and for what amount, because clients can create a request for one amount but actually transfer another one. If the amounts are incorrect, the broker needs to correct them in the requests and then mark the requests as processed or failed (if the money was not transferred).
There are two problems with such a process: manual work and difficulty identifying payments. If a broker has a lot of clients, there can easily be a situation where, say, 2 clients created a $1,000 request around the same time, and only one $1,000 payment came in. It is impossible to identify which client sent that amount, you would have to contact the client to find out.
Manual control inevitably leads to human error, and more often than not such errors amount to more than one thousand dollars. On top of that, as we know, cryptocurrency transactions cannot be undone or disputed.
UpTrader offers its clients to automate cryptocurrency payment acceptance with a crypto gateway. Crypto gateway is a civilised automated way of making cryptopayments with a user-friendly interface that eliminates human error, simplifies the finance department's work and client transfers.
How UpTrader's crypto gateway works:
1) UpTrader's crypto gateway has a simple API and easily integrates into any CRM.
2) A unique wallet is created for and associated with each CRM client who requests a crypto deposit. That is, only this client gets this wallet, and the wallet remains the same between different requests, so that the client does not get confused.
3) After that, our crypto gateway traces when money arrives to this wallet and sends data about incoming payments to the CRM which automatically processes requests and corrects amounts.
If cryptocurrency payments happen from time to time in your company and you anticipate an increase in them, take care of automation in advance in order not to run into problems in the future.

To get more information, mail us to: [email protected] or write us in online chat.
17.11.2022
Subscribe to our news
By clicking this button, you agree to us processing your personal data