UpTrader at iFX EXPO Dubai 2021
19.03.2021
Finally, a live Expo! With 2020 behind us, the world is slowly starting to return to business as usual.

During the last year, we at UpTrader have really longed for another big expo, and now we're proud to take part in the first iFX EXPO since 2019.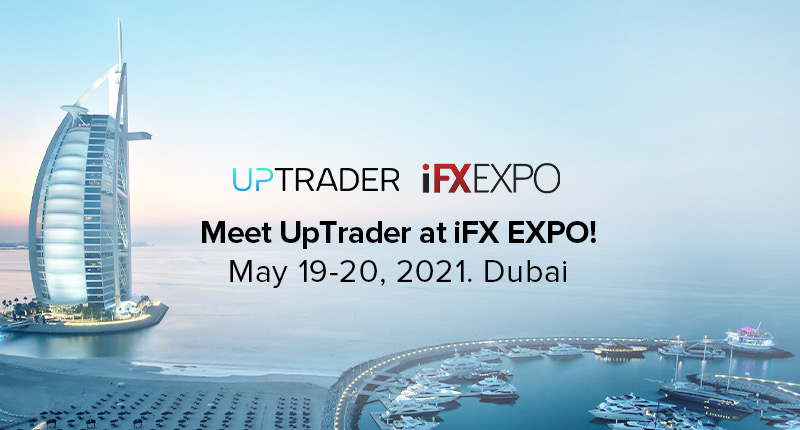 Come see us in Dubai at May 19-20, 2021! There will be two full expo days, and we'll be waiting for you at our booth #49.

Get your tickets now at https://ifxexpo.com/dubai/

You can book an appointment with us by using the "Contact us" form on our website or via email [email protected]

See you there!
Subscribe to our news
By clicking this button, you agree to us processing your personal data
最新消息
Forex CRM Lifehack: Increase your profit with tools you have not used yet
Launch market analytics feed in your Forex CRM
Which extra services do you offer your clients? If you think that a trading terminal, fast fund withdrawal, and copy trading services are enough to keep your clients loyal and satisfied, then you may not know your clients very well or have never tried to offer them something else.
One of the UpTrader brokers broadcasts a daily stock market analytics feed and technical analysis to its clients right in their personal account. Its CEO kindly allowed us to analyse their data for 2021. We considered two client groups: those who read analytics and those who do not. The results speak for themselves.
Numbers
In 2021, customers who read analytics deposited on average 15% more per customer compared to those who did not use this tool. The median bill was 25% higher. At the same time, their trading volume increased by 230%!
Do you want the same results? Easy-peasy!
Daily up-to-date market analysis available in the trader's room might increase the trading volumes of your company, resulting in more potential profit. This tool is already integrated into the UpTrader Forex CRM, however, only a few of our clients use it for additional sales.
Every day, market experts collect information, prepare materials, and publish technical and fundamental market analysis used by thousands of traders around the world.
This tool is already available to you in UpTrader Forex CRM. To begin broadcasting the feed, contact our support team, and you will gain access to an excellent tool for increasing sales and loyalty of your customers starting tomorrow.
16.11.2021
Forex CRM lifehack: increase your profit with withdrawal control and approval system
Withdrawing funds from trading accounts is a very important part of business, because there are plenty of underlying issues that can cause serious reputational consequences for a broker and stress for clients. Fraud, stop-outs, withdrawal requests for a bigger amount than available equity, mismatch of payment details, problems with payment systems, KYC/AML non-compliance and a lot of other problems.
To avoid these problems and make withdrawals without risks for a broker and fast for a client, it is better to follow a certain procedure, where every step is under control of your departments. Your Forex CRM must have flexible settings of an approval withdrawal system.
The UpTrader team has developed a flexible withdrawal approval system that is integrated in UpTrader Forex CRM. For example, you can set it up so that your CEO will be making final approval of withdrawal requests of certain big amounts. You can set up this rule for all requests or only for those that are already approved by lower-ranking staff. It's up to you. It is very important to verify your client with a KYC check, confirm payment details, to do this just direct all requests through a Compliance department. In some cases you might need requests approved by a phone call, so that you are sure that requests are submitted by a real client, not a scammer, so you can set up obligatory manager calls.
All these settings can be easily added in UpTrader Forex CRM.
UpTrader Forex CRM has the following settings you can use:
1. Approval depending on request amount
Withdrawal control is a standard and necessary procedure for financial broker security, but this doesn't have to prevent traders from withdrawing and depositing money quickly. For example, you can allow to withdraw all requests under $100 without additional checks. It means any withdrawal under $100 will occur automatically, but in a case you want to manually approve any amount, you can do it.
2. Know your client system in your Forex CRM.
Establish a rule that requests of any amount are directed to a Compliance department to complete KYC procedures.
3. A withdrawal amount is larger than the client's deposit
If you hedge risks and use a hybrid model and a bridge, you probably need to control trading activity especially in an important market news period to control financial risk.
If you have special needs related to withdrawal approval procedures, write to [email protected] and we will see what we can do for you.
25.10.2021
UpTrader on iFXEXPO, 4-6 October, Cyprus
The main annual international fintech exhibition iFXEXPO will be held on 4-6th October 2021 in Cyprus. Vasily Alexeev, UpTrader CEO is going to be there. He will represent the UpTrader team and be ready to meet with our clients and partners.
UpTrader has released new services this year like a copy trading platform for MetaTrader 4 and MetaTrader 5, and it will be a pleasure to show you this popular service.
We are glad to invite all our clients and partners over there. This is a good occasion and nice place for efficient networking.
To make an appointment with Vasily Alexeev, please write to [email protected]
See you there!
23.09.2021
Subscribe to our news
By clicking this button, you agree to us processing your personal data